QUARTET OF YARMOUTH ACCOUNTANTS TO TAKE ON 'ONLY THE BRAVE' CHALLENGE TO SUPPORT AIR AMBULANCE
31st Mar 2019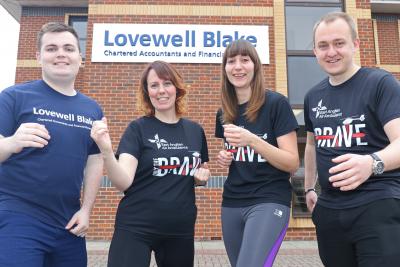 Four Great Yarmouth accountants are set to put themselves amongst 'the Brave' when they take on a tough 10km obstacle course next month in aid of the East Anglia Air Ambulance.
The quartet, who all work at Lovewell Blake's office on the town's North Quay, are taking part in the fourth annual 'Only The Brave' race in Thetford Forest, which will see more than 1,500 competitors tackle a gruelling combination of  running, crawling, climbing and scrambling – and a great deal of mud.
It is the second year that a team from the Yarmouth office of Lovewell Blake, which is also a sponsor of the event, has taken part, with three of this year's team tackling the course for the second year running.
"It is a really tough challenge – at one stage last year I was up to my neck in water," said Donna Farnese, who also took part last year.  "But it's for such a good cause, and taking part last year inspired a few of us to take up running, and as a result we now have a running club at the office which sees a group of us pounding the streets round Yarmouth once a week."
The four taking on the challenge are Maria Buck, Donna Farnese, Steve Hemp and James Ludlam.
The 2019 Only The Brave takes place on Sunday 7th April.  Anyone who would like to sponsor the team can do so at http://www.justgiving.com/teamlb2019.