NORWICH ACCOUNTANTS HELP STRUGGLING FAMILIES RECEIVE SOME CHRISTMAS CHEER
19th Dec 2019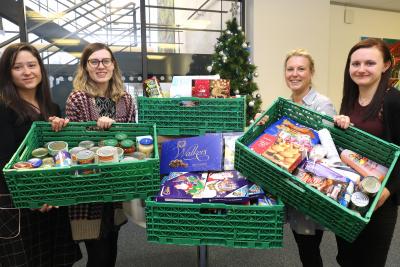 Struggling families in and around Norwich area will be enjoying a little extra Christmas cheer this festive season – thanks to the generosity of kind-hearted staff at a local firm of chartered accountants.
Staff at the Norwich office of Lovewell Blake have been taking part in a 'reverse advent calendar' during the run-up to Christmas, bringing in food, chocolates and other Yuletide goodies to be donated to the Norwich Foodbank for distribution during the festive period.
A huge quantity of donations is on its way to the Foodbank, and will be combined with other donations to create food boxes for families which are struggling to put food on the table this Christmas.
"For many of us, Christmas is a time to celebrate with our families and treat ourselves," said Laura Moore, one of the team at Lovewell Blake which has co-ordinated the collections.
"But for too many people, the festive period is a time when their struggles are amplified.  So it's really great to see how staff here have responded to the reverse advent calendar idea, and we have been delighted at how much we have been able to collect and donate to the Foodbank."
Norwich Foodbank supports individuals and families who find themselves on the edge of disaster through the provision of emergency food supplies. These supplies take the form of nutritionally balanced emergency food boxes to cover an individual or family's basic needs for 72 hours.  The organisation operates from ten distribution centres in and around Norwich.  More details at www.norwichfoodbank.co.uk.