LOWESTOFT ACCOUNTANT TO TACKLE LONDON MARATHON – JUST SIX MONTHS AFTER TAKING UP RUNNING
7th Apr 2019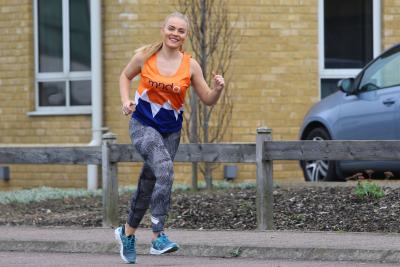 A Lowestoft accountant who only took up running in October is set to take on one of the sport's toughest challenges later this month, when she lines up alongside 40,000 others to tackle the London Marathon.
Amy Randall, who works at Lovewell Blake's office on Quay View Business Park, applied for a place in the race after being egged on to do so by her sister, who ran it ten years ago – and it was only when she found out she was successful in the ballot that she started running.
As well as aiming to complete her first marathon just six months after taking up the sport, Amy is also raising money for two causes close to her family's heart: The Motor Neurone Disease Association and The Parkinson's Foundation.
"My sister, who ran the London Marathon ten years ago, suggested that we should run the event together," said Amy.  "But she didn't get a place and I did – and suddenly it dawned on me that I was going to have to run the equivalent of Lowestoft to Norwich in six months!"
She has already smashed her initial fundraising target of £1,000, and has now set herself an ambitious target of raising £3,000 to be split between the two charities.
Meanwhile, despite insisting that her only running target is to cross the finishing line, Amy admits to an ambition of finishing in 4 hours 30mins – roughly equivalent to averaging ten minute miles.
"I was trying to make it about finishing, but I have now got the bug for running, and I fear if I don't get the time I want, I'll do it again – and I don't think my body will thank me for that," she said.
"I regretted going in for the ballot at first, but now I'm really proud of what I have achieved.  It just goes to show that it's amazing what you can achieve if you put your mind to it."
Anyone wanting to support Amy's fundraising efforts can do so by donating at https://uk.virginmoneygiving.com/AmyRandall.