LOVEWELL BLAKE TO SUPPORT STUDENT AND GRADUATE ENTREPRENEURS
20th Jan 2019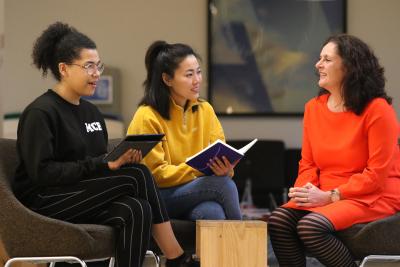 Students and graduate entrepreneurs at the University of East Anglia (UEA) will receive financial support and mentoring after a leading firm of chartered accountants and financial planners made a charitable donation to support the UEA's Enterprise Fund.
Lovewell Blake, which has ten offices in Norfolk, Suffolk and Cambridgeshire, has contributed to the Fund, which is designed to provide student and graduate entrepreneurs with access to much-needed cash in the early stages of their business's development.
In addition, Lovewell Blake partner Mary Schofield has committed to give 26 days worth of mentoring to the young business start-ups over the coming year.
Ms Schofield will be based in the UEA's Enterprise Centre to give one-to-one sessions for half a day every fortnight for the next 12 months, offering advice on everything from how to structure a new business, through to accessing finance to kick-start a new company and building a sustainable business strategy.
"Today's students and recent graduates are hugely entrepreneurial, and many have a real drive to start their own businesses right out of university," said Ms Schofield.
"Whilst they have some amazing ideas, they can sometimes lack the experience and business skills, and that is where mentoring comes in.  I'm looking forward to sharing my own expertise to maximise the chances of these fledgling businesses being successful."
David Ellis, director of development at UEA, said: "We are delighted to have Lovewell Blake join our Founders Circle of alumni, friends and foundations supporting the Enterprise Fund.  Mary's regular mentoring is proving to be a great help to our entrepreneurial and innovative graduates and students."
Masters graduate Evelyn Huang, who finished her degree this year, is in the process of setting up a film-making studio after receiving seed funding from UEA, and was one of the first young entrepreneurs to be mentored by Ms Schofield.  She said, "It is really helpful to be able to get advice on budgeting and finance, and other aspects of running a business which will help me develop my idea and make it successful.  Having access to someone with so much experience of the business world is so valuable."
The UEA Enterprise Fund is an investment fund created entirely out of donations from alumni, businesses and individual entrepreneurs.  It offers three levels of funding to support student businesses, from start-up grants to help test initial business ideas, through to large-scale investments in return for equity in the new business. Find out more about the Enterprise Fund and how to apply.