LOVEWELL BLAKE CARRIES OFF MAJOR RURAL BUSINESS AWARD
10th Nov 2021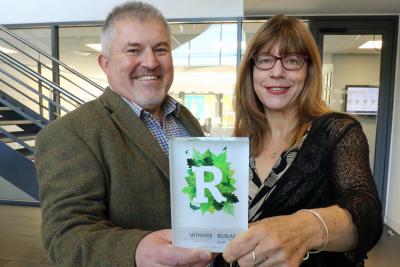 A regional firm of chartered accountants which has a leading team of rural and agricultural specialists has been named one of the best rural businesses in the UK after winning a Rural Business Award.
Lovewell Blake has won the East Region Best Rural Professional Services Business category in a huge region which stretches right across 16 counties in the southeast of England, from Hampshire to Norfolk.
Now the firm is in the running for the Rural Business Awards nationally , the results of which will be announced in February.
The Rural Business Awards, in partnership with Amazon, are designed to celebrate the achievements of rural businesses, as well as developing a strong network for rural business owners.  This is the seventh year that the awards have been run.
Lovewell Blake agricultural partner Chris Solt said, "We have invested heavily in building specialist teams in areas such as agriculture, which are so important to the economy of this region.  This has enabled us to offer very strong support to rural businesses in our part of the world.
"To be judged the best Rural Professional Services Businesses in the whole of the southeast of England is a real endorsement of our efforts to support our rural clients, and we now look forward to the announcement of the national winners in February."
The Rural Business Awards is the brainchild of Leicestershire businesswomen Anna Price and Jemma Clifford, who wanted to showcase the wealth of entrepreneurial talent in rural areas of Britain.
Jemma Clifford said, "We are excited to celebrate the 2021/2022 awards after such a challenging year for businesses.  We are passionate about creating a nurturing environment where rural businesses can develop, and this starts by showcasing the great work they do."
The Awards are organised by rural business for rural business, with winners in the 13 categories - ranging from Best Rural Start-up and Best Rural Diversification Project; through to Best Rural Professional Services Business and Best Rural Innovation - decided by an independent panel of judges drawn from the rural business sector, rural public sector agencies, and rural charitable organisations.
To learn about the Rural Business Awards visit www.ruralbusinessawards.co.uk.