LOVEWELL BLAKE AWARDED INVESTOR IN YOUNG PEOPLE STATUS
25th Apr 2016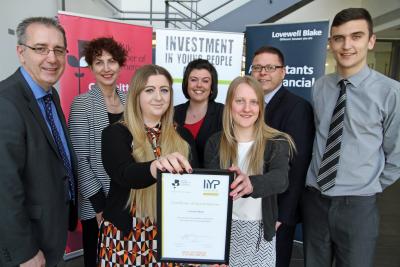 Chartered accountants, business advisers and financial planners Lovewell Blake have become only the third organisation in Norfolk – and the first private sector business – to be awarded the Investors in Young People (IIYP) accreditation.
The award recognises the firm's widespread mentoring work in schools, as well as its commitment to providing apprenticeships across its ten offices in Norfolk, Suffolk and Cambridgeshire.
Lovewell Blake is closely involved with many high schools across the region, and its staff will attend 30 separate enterprise days, careers evenings, mock interview sessions, CV writing workshops and mentoring events in the first six months of this year alone.
In addition, the firm has been involved in apprenticeships for several years, with 13 apprentices joining the scheme in 2015.
The award was presented by Norfolk Chamber president Jonathan Cage at a ceremony at Lovewell Blake's Norwich offices, attended by some of the current crop of apprentices.
Lovewell Blake HR  adviser Vicky Webber said, "We are very committed to developing young people, both within the firm, but also in our local schools. 
"It is really important for businesses like Lovewell Blake to get involved in helping young people understand the world of work, know the opportunities available, and raise their aspirations.  That is vital not just for employers like us who need the next generation of employees to be motivated and bright, but also for the wider economy and for society as a whole."
Caroline Williams, chief executive of Norfolk Chamber, commented, "Businesses can do a lot to inspire young people, and it is important that those who make the effort to do so are recognised by young people as great employers.
"Lovewell Blake has shown that they excel in what they do, going over and above what you might expect an employer to do to engage with young people and help them understand the world of work, and what opportunities exist in it.
"It is so important that employers inspire our young people to see why qualifications are important, and to motivate them to raise their aspirations – and this is what Lovewell Blake does with such passion and enthusiasm."
The Investors in Young People scheme aims to recognise and celebrate the important work done by employers to help young people gain employability skills and prepare them for future employment.
Schools and colleges Lovewell Blake is working with in 2016
Attleborough High School
East Norfolk Sixth Form
Flegg High School
Great Yarmouth College
Greshams
Lowestoft College
Lowestoft Sixth Form
Neatherd High School
North Walsham High School
Norwich School
Old Buckenham High School
Open Academy
Ormiston Denes Academy
Ormiston Venture Academy
Ormiston Victory Academy
Sir John Leman High School
Sprowston High and Sixth Form
Wymondham College
Wymondham High School