LEADING LOWESTOFT FIRM OPENS ITS DOORS TO LOCAL BUSINESS STUDIES STUDENTS
14th May 2018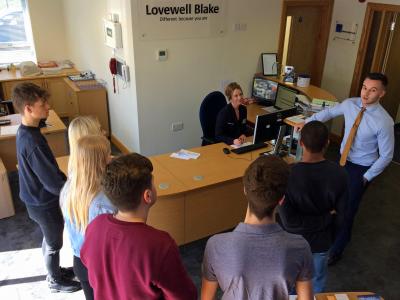 Ten Business Studies students from Lowestoft College had the chance to find out first hand about one of the region's leading businesses when they were welcomed at the Lowestoft office of leading accountants, business advisers and financial planners Lovewell Blake, as part of the Suffolk Chamber of Commerce Young Chamber membership.
The group was welcomed by Lovewell Blake partner James Shipp at the firm's Excelsior House offices before visiting the tax, financial planning, business recovery, business services group and corporate services group departments, hearing an overview of each from staff.
The students also heard from staff member Gabrielle Greenwood about life as a trainee at the firm, and took part in a question and answer session in which they quizzed Lovewell Blake staff about a wide variety of topics ranging from the firm's technological resources to the skills required to build a career in accountancy.
"We work hard as a firm to encourage and nurture young talent for the future, and working with our local schools and colleges is a major part of that," said Lovewell Blake partner James Shipp. 
"Business Studies students learn lots of valuable things in the classroom, but there is no substitute for getting out there and seeing business working first-hand, and having the opportunity to talk to people who are already working at the sharp end."
Young Chamber is an initiative from Suffolk Chamber of Commerce which aims to bridge the gap between businesses and education.