LAST HOMES RELEASED AT POPULAR WATTON SITE
28th Sep 2015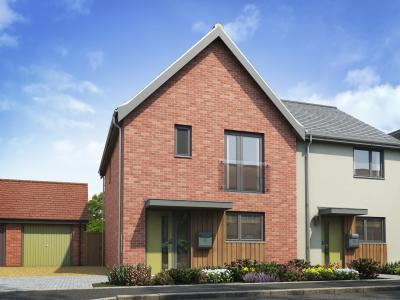 House hunters looking for a highly sustainable new home in Watton are being offered one last chance to find their dream, with the release of the sixth and final phase of Abel Homes' hugely successful hus46+ development in the town – with the last 11 homes being released for sale.
This last release includes 4 two-bedroom houses, 5 three-bedroom houses, and 2 four-bedroom houses, including the site's showhome, which buyers can buy complete with furniture if they wish.
The new homes - which are on a road named Saddlers Drive, reflecting the site's former role as home to the famous Abels shire horses -  are priced from £155,950 to £289,950
The new homes are contemporary in design, and boast the latest in energy-efficient features such as photo-voltaic solar panels, triple glazing and high levels of insulation.  Buyers will not only benefit from lower energy bills, but will receive payments from the index-linked 'Feed in Tariff' from the government for 20 years as well.
As well as the energy-efficient features, each of the new homes has a high level of features, including A-rated Bosch appliances (stainless steel electric oven, stainless steel gas hob, as well as integrated fridge/freezer and dishwasher) and sustainably-sourced cedar cladding.
Marcus Sanders, sales and marketing manager for Abel Homes, which is based nearby in the town, said, "Our hus46+ site in Watton has proven to be very popular, buyers are delighted by the design of the whole site, with its wide open green spaces designed to foster a sense of community.
"Both the contemporary design and the sustainable nature of these new homes have been attractive to buyers; the energy efficient features mean that not only are these new homes affordable to buy, but they are efficient and affordable to run as well. 
"There is already a vibrant community feel amongst those living at hus46+, and we expect this new release to be very popular - and would advise early viewing."
More details about the new homes at hus46+ which have just been released (plots 4-10, 14, 15, 17 and the showhome, plot 30) can be found at www.abelhomes.co.uk.