LAST CHANCE FOR SCHOOL LEAVERS AND GRADUATES TO APPLY FOR RENOWNED ACCOUNTANCY TRAINING PROGRAMME
4th Jan 2018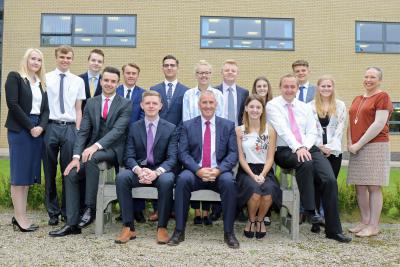 School leavers and graduates seeking a career in accountancy have until 12 January to apply to be part of the 2018 intake into the renowned training programme of one of the region's leading firms.
Accountants, business advisers and financial planners Lovewell Blake recruits up to 20 school leavers, college leavers and graduates each year, with all embarking on professional qualifications or apprenticeships from day one.
Applications for current Year 11 and Year 13 students, as well as degree final year students, to join the firm this summer close on 12 January.
Those joining from school and college on apprenticeships start the Association of Accounting Technicians (AAT), whilst graduate trainees study for either the Association of Chartered Accountants (ACA) or Association of Chartered Certified Accountants (ACCA) qualifications – onto which accountancy apprentices also progress once they have achieved the AAT qualification.
In 2017 Lovewell Blake was the only Norfolk employer to be named in the Top 100 UK employers for School and College Leavers.  In a list which was dominated by big national firms, Lovewell Blake was ranked 44th in the UK.
"Our training programme has an excellent reputation and track record for launching the careers of young people, and we are once again seeking the very best school leavers and graduates for our 2018 intake," said Lovewell Blake HR manager Gemma Chapman.
"We work very closely with schools and colleges in the region to encourage young people to enter the profession, and to ensure that we attract the pick of the crop each year.  The deadline for applications is fast approaching to be part of the programme from this summer."
Students interested in applying for Lovewell Blake's 2018 training intake can find further details at www.lovewell-blake.co.uk/careers.  The closing date for applications is 12 January 2018, with an assessment centre to be held in the February half-term.