HALESWORTH ACCOUNTANTS HELP STRUGGLING FAMILIES RECEIVE SOME CHRISTMAS CHEER
10th Dec 2019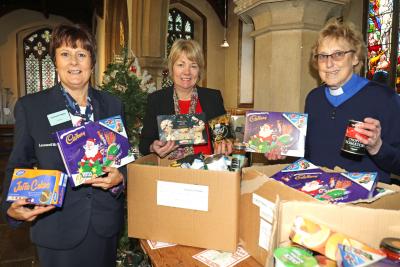 Struggling families in the Halesworth area will be enjoying a little extra Christmas cheer this festive season – thanks to the generosity of kind-hearted staff at a local firm of chartered accountants.
Staff at the Halesworth office of Lovewell Blake delivered three enormous boxes of food, chocolates and other Yuletide goodies to the Halesworth Foodbank after holding a collection in the run up to Christmas.
It is the third time this year that the 16 people working at the firm's Quay Street offices have donated to the Foodbank, and they are urging other businesses to follow their lead once the festive period is over.
"Christmas is a time when everybody wants to spread some good cheer to those less fortunate than themselves, but the need for donations at the Foodbank is a year-round one," said Maxine Vincent, who co-ordinated the initiative at Lovewell Blake.
Receiving the donation at the Halesworth Foodbank's distribution centre at St Mary's Church in the town, Foodbank manager Rev Pam Bayliss added, "The demand for what we do is increasing, and we are currently helping out around 60 people in the surrounding area.
"At Christmas we try to give a little bit more than the basics, with chocolate and some festive luxuries for families who have little to look forward to at Christmas.  But the demand goes on after the holiday period, and we continue to need donations of food all year round."
The Foodbank, which also operates in Beccles, distributes boxes of food to families in need every Wednesday morning from the church in Halesworth.  The Foodbank works using a voucher referral system, with vouchers issued by a number of agencies including Citizens Advice, local doctors' surgeries, and Social Services.