FULL HOUSE AS FARMERS' EVENING HEARS ABOUT FARMING'S ENVIRONMENTAL FUTURE
15th Mar 2022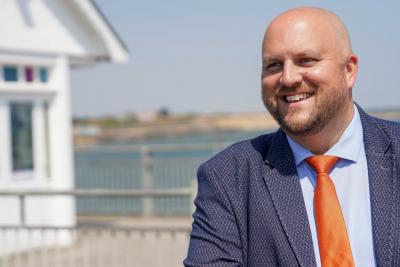 More than 60 farmers ensured a full house at the first NFU Suffolk Coastal Branch/Lovewell Blake Farmer's Evening of 2022, held at Halesworth Golf Club.
With the theme 'Managing the Farmed Environment', speakers Abigail Maynard and Katie Crawford from Brown & Co covered the environmental schemes which will be available as farmers face a future with no Basic Payment Scheme.
Ms Maynard, who heads up Brown & Co's environmental services department, highlighted that there was flexibility to make some of these schemes part of the usual farm rotations going forward, with farmers able to enter areas of land in and out of some of the schemes.  She pointed out that much of the details of several of the schemes are still to be released, and that the picture will only become clearer over the coming weeks and months.
Meanwhile Ms Maynard said that it was a matter of 'horses for courses' when it came to decision about whether to enter into the new schemes.  She highlighted the opportunity to take advantage of environmental initiatives to make use of areas of the farm which are nutrient-poor, prone to flooding or contain un-managed woodland.
Chairing the meeting, Ryan Lincoln, agricultural partner at Lovewell Blake, said that there was a need for clarity when it came to the tax implications of replacing arable farmland with woodland and carbon-offsetting projects if agricultural relief were no longer available.
Although the theme of the evening was very much about the UK's agricultural policy, the assembled farmers could not ignore the global picture.  In questions from the floor, concern was raised that incentives to use farmland for environmental, carbon capture and increasing biodiversity could impact on the ability to produce enough food – especially given Ukraine's status as the 'breadbasket of Europe'.
"With every seat in the room taken, this was a lively and timely debate about farming's role in the future, both in terms of food production and in managing the wider environment," said Ryan Lincoln. 
"It is clear that this is something which farmers feel passionate about – once the main business of the evening was over, discussions continued amongst the attendees for a good hour afterwards."
The next NFU/Lovewell Blake Farmers' Evening is due to take place in May.  Anyone who would like to receive information about the event can register their interest by emailing t.cox@lovewell-blake.co.uk.