ANNUAL TENPIN BOWLING CHALLENGE RAISES OVER £4,000 FOR LOCAL CHARITY FUND
22nd Oct 2019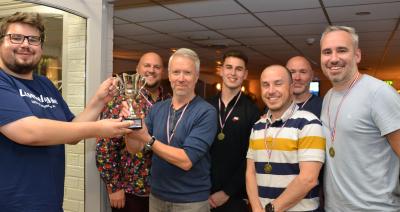 Over 70 participants from a dozen local businesses helped a local firm raise nearly £4,000 for good causes by taking part in a charity tenpin bowling event.
Organised by staff at the Halesworth office of chartered accountants and financial planners Lovewell Blake, the annual event saw Barclays Bank lift the trophy with Kerslake Construction coming second, closely followed by defending champions GS Computers of Loddon.
A raffle and auction on the night, with prizes donated by local businesses, helped boost the total raised, and with generous match-funding from Barclays Bank, and from the partners at Lovewell Blake, the total raised was over £4,000.  This sum will go into the firm's LB150 Fund, an ongoing initiative to raise money for charities and local community groups across Norfolk, Suffolk and Cambridgeshire.
Event organiser Matthew Waters, of Lovewell Blake's Halesworth office, said, "The support we receive from the local business community, the enthusiastic support from the teams taking part and the Lovewell Blake staff who organise the event, we are very grateful for.
"The evening brings together local businesses to raise vital funds for some of the region's smaller charities and community projects while enjoying some friendly competition against what have now become familiar faces.
"Each year we are proud of the amount we have raised and would like to thank everyone who helped us reach such a fantastic total.  Planning is already underway for next year's event."
The evening was once again hosted by Rob Mayes-Smith and his staff at Richardson's Family Bowl, Lowestoft, who again generously donated three novelty skittles, which were auctioned off at the end of the evening.
The LB150 Challenge was originally set up to mark Lovewell Blake's 150th anniversary in 2008, with a goal of raising £150,000.  Since then the firm has raised over £270,000, benefitting over 100 charities and voluntary groups.  The Fund is administered by the Norfolk, Suffolk and Cambridge Community Foundations.