ACCOUNTANTS CELEBRATE TEN YEARS IN 'VIBRANT, THRIVING' BURY ST EDMUNDS
26th Apr 2022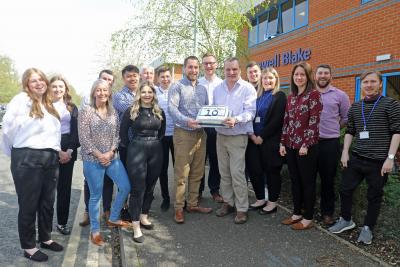 A leading regional firm of chartered accountants and financial planners is celebrating a decade of doing business in Bury St Edmunds – ten years which has seen the team in the town grow to more than 20 people.
Lovewell Blake created its Bury office from scratch in 2012, its third Suffolk base.  Since then the Hillside Business Park office has grown to 22 staff, with specialists from elsewhere in the firm 'hot-desking' at the office on a frequent basis.
Partner Brian Floringer, who along with fellow partner Leigh Thurston heads up the Bury St Edmunds office, said, "We saw Bury St Edmunds as an attractive town in which to have a presence.  We already had quite a few clients in the area, which we were servicing from our Thetford office, but we saw Bury as a vibrant, thriving place to do business.
"That is why we chose to invest in setting up a new office in the town from scratch, a decision which has proven to be a sound one - we have managed to win new clients throughout that ten year period. 
"Our decision to invest in sizeable premises has been vindicated, and the busy office is always buzzing, both with the staff who are based in Bury permanently, and the many specialist staff who work out of the office as required to provide extra services as needed."
Lovewell Blake has two other offices in Suffolk at Lowestoft and Halesworth, five offices in Norfolk and one in Cambridgeshire.