ACCOUNTANT BROTHERS PUT BEST FEET FORWARD IN MILAN RUNNING CHALLENGE
2nd Nov 2020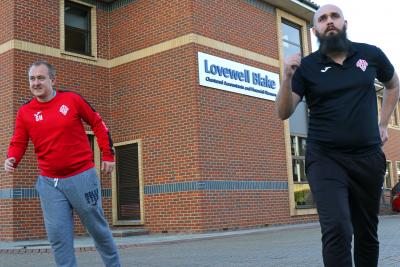 Two brothers who work together at the same Great Yarmouth accountancy firm are taking part in a virtual run to Italy and back in a bid to raise £1,000 for a local mental health charity.
Steve and Andy Hemp, who both work at Lovewell Blake on North Quay in the town, are part of a team aiming to run a total of 2950km – the equivalent of Bradwell to Milan and back.
The pair are members of amateur football team AC Mill Lane, who are sponsored by the accountancy firm, and whose members are undertaking the challenge of running to the San Siro and back – the home of AC Milan, which inspired the formation of the Bradwell-based club.
The initiative is aiming to raise £1,000 for Norfolk & Waveney Mind, which supports people with mental health issues.
Steve Hemp, who is AC Mill Lane's manager, said, "Mental health is an important part of our lives and something that affects one in four of us every year.  As a club we try and ensure that we are constantly aware of the mental health of our members – we have had players and officials both past and present who have been affected with mental health issues.
"Over a four week period we are aiming to run the 2950km – the distance from our Bradwell ground to the San Siro and back."
Anyone interested in sponsoring the run can do so at www.justgiving.com/fundraising/ac-mill-lane-football-club.