WORKS BY CONTEMPORARY NORFOLK ARTISTS AS WELL AS BIG NAMES FROM THE PAST TO GO UNDER THE HAMMER THIS WEEK
24th Apr 2018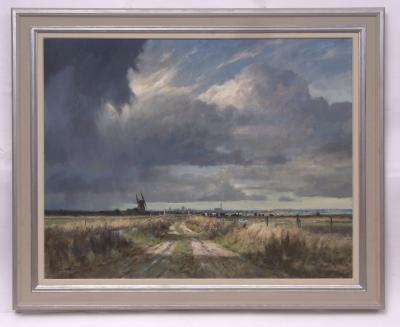 Pictures by some of Norfolk's leading 20th and 21st century artists are set to go under the hammer in the county later this week.
Works by Colin Burns, Jack Cox, Rowland Fisher, Michael J Sanders, Margaret Glass and Geoffrey Chatten feature in Keys Fine Art Auctioneers' first East Anglian Art Sale of the year, which takes place on Friday 27th April at the firm's Aylsham salerooms.
Alongside the artworks by top living and 20th century artists will be pictures by some of the region's most famous artists from the past, including Sir John Arnesby-Brown and Campbell Archibald Mellon, as well as Norwich School luminaries Hodgson, Crome, Cotman and Alfred Stannard.
Around 450 lots will go under the hammer at the sale, which is the biggest and most important auction of East Anglian art held anywhere in the world.
"Once again we have a fantastic collection of works by artists from our region in our East Anglian sale," said Keys' head of fine art Kevin Lines. 
"We have become accustomed to seeing the big names from the past in these sales, but it is noticeable that we are finding more works by 20th century and contemporary artists coming to auction, reflecting a growing interest in more modern art and design which we are seeing right across our activity.
"Whilst there are very valuable works up for auction in this sale, there are also many accessible pictures – both in terms of subject matter and style, as well as price – which will attract more casual collectors who are simply looking for quality pictures to hang in their home rather than to buy as an investment.
"Keys' East Anglian Art Sales are now recognised as the leading place to trade art by East Anglian artists, and the eyes of the antiques and fine art world will be on Norfolk this week."
Highlights of the sale include:
'Cattle grazing in wooded landscape with distant village and church' by Sir John Arnesby-Brown (1866-1953), which has a pre-sale estimate of £20,000-£30,000
'The Approaching Storm – Yarmouth Marshes' by Colin W Burns (born 1944), which has a pre-sale estimate of £4,000-£6,000
'Boats At Quayside, Wells' by Jack Cox (1914-2007), which has a pre-sale estimate of £300-£400
'Haven Bridge, Great Yarmouth' by Rowland Fisher (1885-1969), which has a pre-sale estimate of £200-£250
 'The Green Door' by Margaret Glass (born 1950), which has a pre-sale estimate of £100-£150
The Keys Fine Art Auctioneers East Anglian Sale take place on Friday 27th April at 10.30am at Keys' Aylsham salerooms.  Viewing is on Wednesday 25th April from 9am-6pm, Thursday 26th April from 9am-7.30pm, and on the morning of the sale from 9am.  Full details and an illustrated catalogue can be found at www.keysauctions.co.uk.