WORK STARTS ON 46 NEW AFFORDABLE HOMES IN MARTHAM
26th Apr 2021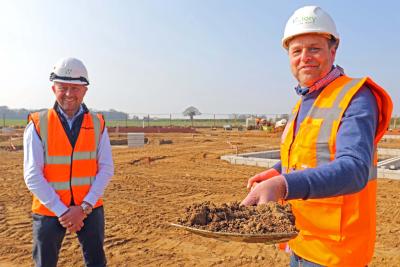 Work has started on the construction of 46 new affordable homes in Martham.  The £7.8million project, which will be handed over in phases starting from the end of 2021, will see 30 new homes made available for affordable rent and 16 for shared ownership.
Flagship Group development director Mark Burghall joined Paul Pitcher, managing director of constructor Wellington, to cut the first sod at the site off Rising Way in the village.
The project was brought forward by Lowestoft-based developer Wellington, which has a long track record of delivering affordable homes for housing associations and local authorities in the region.  The firm identified the opportunity, obtained planning consent for the development, and then worked with Flagship to turn it into reality.
To enable the development to proceed £2.2 million in grant funding has been made available by Homes England.
Wellington managing director Paul Pitcher said, "We are very pleased to be working with Flagship once again, and to be creating 46 much-needed new affordable homes in Martham.  We identified a real opportunity to deliver affordable homes on this site after the land was introduced to us.
"As a locally-based firm, we take great pride in building top quality affordable homes in the area, as well as open-market homes, and we have done so at many sites across Norfolk and Suffolk.  Not only is this providing homes for local people, but it is also creating employment for local people as well."
Mr Burghall said, "We are delighted to be working with Wellington once again; this is an excellent example of a true partnership being able to create and fulfil an opportunity which wouldn't otherwise have existed.
"These new homes will provide much-needed affordable homes for rent in Martham, as well as giving people the opportunity to get their foot on the property ladder and move us one step closer to our vision of solving the housing crisis in the East of England."