WORK STARTS ON 14 NEW AFFORDABLE HOMES IN KNAPTON
9th Sep 2019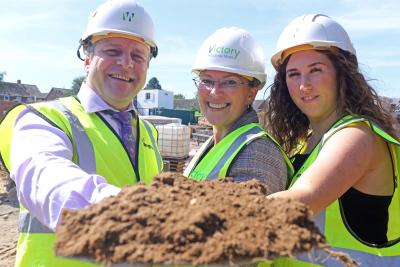 Work has started to build 14 new affordable homes in Knapton, near North Walsham.  The £2 million project, which is due for completion in the summer of 2020, will provide seven new homes for affordable rent, and seven for shared ownership.
Victory Housing Trust delivery manager Faith Davies joined Corin Pitchers and Anna Benson from contractor Wellington to cut the first sod at the site, between School Close and Mundesley Road in the centre of the village. 
Thirteen houses and one bungalow will be built on the site off School Close, which will also provide areas of public open space at the centre of the village and a parking area exclusively for the use of Knapton Village Hall.
"We are delighted to be building 14 much-needed new affordable homes in Knapton," said Ms Davies.  "It is important that our development programme provides new affordable homes in smaller rural villages as well as in our market towns.
"We are very pleased to be working in partnership with Wellington on giving the local people of Knapton the opportunity to stay in the village with both homes for affordable rent, as well as seven shared ownership homes to help people get on the property-owning ladder in an affordable way."
The new homes are being built by Lowestoft-based contractor Wellington, which has a long track record of delivering affordable homes for housing associations and local authorities in the region. 
Mr Pitchers, an architectural technologist with the firm, said, "We are delighted to be breaking ground and to be working once again with Victory on this scheme.
"As a locally-based firm, we take great pride in building top quality affordable homes in the area, and we have done so at many sites across Norfolk and Suffolk.  We are currently working on similar projects with nine housing association partners, drawing on our own developer knowledge and skills.
"Not only is this providing much needed homes for local people, but it is also creating employment for local people as well."