WORK STARTS ON 12 NEW AFFORDABLE HOMES IN EDGEFIELD
8th Apr 2019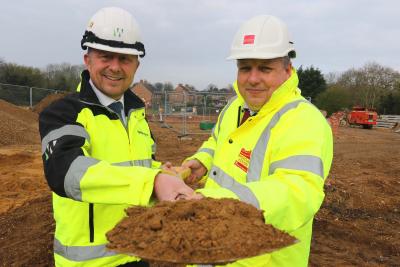 Work has started to build 12 new affordable homes and ten open market homes in Edgefield near Holt – and priority for the affordable rental homes will be given to local people once they are completed next year.
Broadland Housing Group executive development director Andrew Savage joined Paul Pitcher from contractor Wellington to cut the first sod at the site, on Holt Road on the northern edge of the village.
The £3.6 million project, which is due for completion in the summer of 2020, will provide nine new homes for affordable rent and three for shared ownership, as well as ten new open market homes.
"We are very excited to be here in Edgefield celebrating the start of construction of 22 much-needed new homes," said Mr Savage. 
"We are delighted to be working in partnership with Wellington on giving the local people of Edgefield the opportunity to remain in the village with nine homes for affordable rental, as well as an opportunity to get on the housing ladder with three shared ownership properties"
The new homes are being built by Lowestoft-based contractor Wellington, which has a long track record of delivering affordable homes for housing associations and local authorities in the region. 
Managing director Paul Pitcher said, "We are delighted to be breaking ground and to be working once again with Broadland on this mixed tenure scheme which includes some truly stunning properties with equally stunning views over the North Norfolk countryside.
"As a locally-based firm, we take great pride in building top quality affordable homes in the area, and we have done so at many sites across Norfolk and Suffolk.  We are currently working on similar projects with nine housing association partners, delivering a mix of affordable and open market properties - drawing on our own developer knowledge and skills.
"Not only is this providing much needed homes for local people, but it is also creating employment for local people as well."