VISUALLY-IMPAIRED NORFOLK PEOPLE CONQUER THE O2
10th May 2019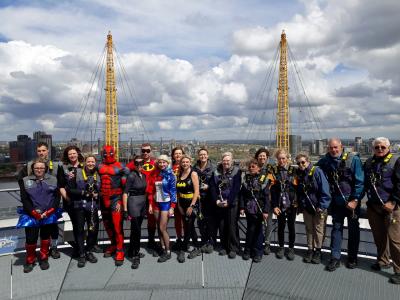 Three intrepid visually-impaired people from Norfolk have taken on the challenge of climbing the O2 in London – clambering up 30 degree slopes to reach the 52 metre (170 foot) high platform above the iconic dome.
The three were accompanied by guides, as well as a group of 14 'superheroes' – staff from Coltishall firm Just Financial Planning who donned costumes to tackle the challenge alongside the visually-impaired climbers to raise money for the Norfolk & Norwich Association for the Blind.
In all nearly £3,000 was raised for the charity by the group, who took two hours to ascend and descend the iconic London landmark, along a specially-designed suspended walkway from one side of the dome to the other.
"It was a really good experience," said Karen Norton, an NNAB Trustee who is severely sight impaired with little or no peripheral vision, and who had to leave her guide dog Holly on terra firma.
"Climbing the dome was a real challenge.  The walkway is suspended, so it's like walking on a trampoline.  I suspect it was more scary for those who could look down and see how far down the ground was."
NNAB director Clive Evans, who organised the challenge, said that everyone who undertook it had enjoyed it once the initial nerves had calmed.  "It is a real sense of achievement to climb the O2, whether you are sighted or visually-impaired.
"We are especially grateful to the team from Just Financial Planning, who accompanied our visually-impaired climbers and raised so much money for the charity – they really were superheroes."