VISUALLY-IMPAIRED HISTORY GROUP GETS HANDS-ON WITH THE VIKINGS
3rd Apr 2019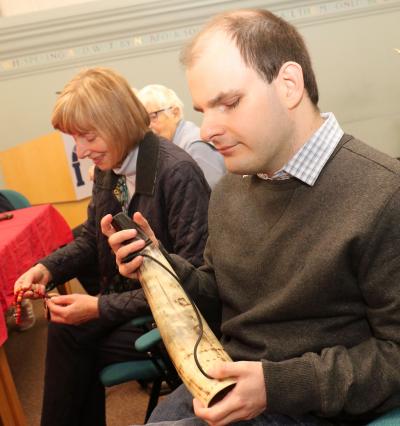 A group of blind and visually-impaired history enthusiasts have been getting hands-on with the Vikings – thanks to a special event hosted by the Norwich Castle Museum.
Fifteen members of the Norfolk & Norwich Association for the Blind's History and Heritage group visited the Castle to find out more about the current 'Viking: Rediscover The Legend' exhibition.
The group were able to handle a range of Viking artefacts in a special session led by the museum's education team. 
With the aid of a range of helmets, weapons, jewellery, drinking horns and other everyday objects, members learned how the Vikings re-shaped Britain's political, economic, religious, social and artistic life, and how Viking culture was transformed by 200 years of British contact.
"Many exhibitions are visual by their very nature, but the team at the Castle were able to bring the whole thing alive for our visually-impaired members through a great combination of lively story-telling and allowing us to handle a variety of the items from the exhibition," said Mark Smith, leisure activities co-ordinator at the NNAB.
"It is great that the Castle team were able to make such an effort to make the exhibition accessible for visually-impaired people, and we would like to extend our grateful thanks for their warm welcome, and the way in which they brought the whole experience to life for us."
The NNAB's History and Heritage group meets monthly, visiting a range of locations connected to Norfolk's history.
The 'Viking: Rediscover The Legend' exhibition at Norwich Castle explores the extent to which Viking culture transformed life in Britain.  A series of themed sections takes the visitor through the story of the Viking presence in England over 200 years.
Included in the exhibition are 50 objects which place the Vikings in an East Anglian context.  Many are recent finds and are on display for the first time, including a coin which proves the existence of a previously unknown Anglo Saxon king.  The Hingham Hoard contains the largest hoard of King Edmund pennies ever found in the UK and a beautiful lozenge-style gold brooch, the first of its kind to be unearthed in the country.
The 'Viking: Rediscover The Legend' exhibition runs at the Norwich Castle Museum until 8th September.