VISUALLY-IMPAIRED FOOTBALL FANS GET THE PROMOTION BUZZ
29th Apr 2019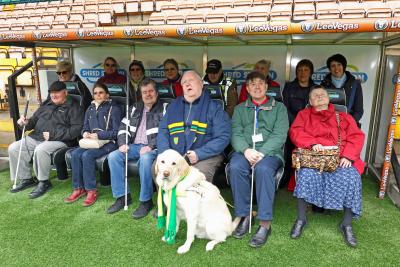 Blind and visually-impaired Norwich City fans had the chance to experience the 'backstage' of Carrow Road, when they were taken on a stadium tour which saw them visiting the team dressing rooms, walking up the players' tunnel, taking part in a mock press conference in the club's media room, and sitting in Daniel Farke's seat in the dugout beside the pitch.
The 14-strong group – plus two guide dogs - from the Norfolk & Norwich Association for the Blind were treated to a bespoke tour by NCFC stadium guide David Newton, who used all his powers of description to bring Carrow Road to life for the visually-impaired fans – some of whom attend every home game.
After experiencing the contrasting home and away dressing rooms – with the vivid pink décor of the away dressing room described in detail for those who couldn't experience it visually – the group were taken to the media room, where Mervyn Ivany, accompanied by his guide dog Ayjay, sat in the managers' hot seat and was subjected to a mock media grilling.
Mervyn, who lives at the NNAB's Hammond Court supported independent accommodation in Norwich, attends all of City's home games, enjoying the club's 'Soccer Sight' matchday audio descriptions.
"With such a buzz about the club this season, it was a fantastic experience for the visually-impaired fans to receive such a welcome at Carrow Road, and have the chance to get up-close to where it all happens," said Emma Dean, sports activity co-ordinator at the NNAB.
"Enjoying sport – whether as a participant or a fan – is one of the ways that visually-impaired people can live active and fulfilled lives, and we are very grateful to the team at Carrow Road for giving our party such a great experience."