VISUALLY-IMPAIRED CARE HOME RESIDENTS GET THE CHANCE TO 'FEEL THE HIGH SHERIFF' TO GET SENSE OF TRADITIONAL REGALIA
7th Oct 2018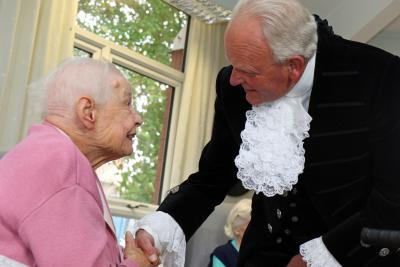 Residents at Norwich's care home for visually-impaired people had the opportunity to get up close and personal with one of the county's highest officers when the High Sheriff of Norfolk paid a visit in full regalia – and invited them to touch his ceremonial robes to get a sense of their grandeur.
Charles Watt, who is half way through his year in the traditional honorary role, spent time chatting with each of the residents, as well as giving them a talk about the office of High Sheriff, which is appointed by the Queen.
He told the visually-impaired residents that the post was originally the principal law enforcement officer in the county, as well as being responsible for collecting taxes on behalf of the crown.
"It was a real treat for the High Sheriff to take time out of his busy schedule to come and see our residents, who were made to feel very special with such a VIP visit," said NNAB chief executive Gina Dormer. 
"He was resplendent in his full regalia, and he was very happy for the residents to feel his velvet and lace uniform to get a sense of the ceremony and elegance of the traditional costume – showing a real understanding of how to interact with visually-impaired people.
"The High Sheriff took the time to chat to each of the residents at some length, and there was a real buzz about the place both during and after his visit.  We are very grateful that he took the time to come.
"The visit was wonderful, and part of our ongoing programme to help our residents lead active and fulfilling lives."