Victory announces £3 million investment in new homes for Wells
23rd Nov 2014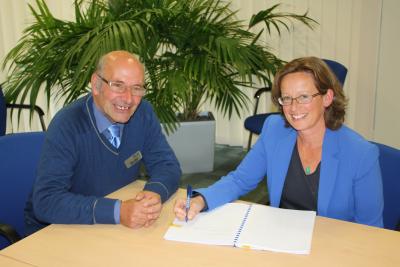 North Norfolk's largest affordable housing provider has announced it is to invest over £3 million to build 40 new affordable homes in Wells.
Victory Housing Trust has signed a contract with Hopkins Homes to build the new homes on its Market Lane site.
The new development will consist of one- and two-bed flats, two-, three- and four-bed houses, and two two-bed bungalows.  All 40 homes will be made available for affordable rental.
The first new homes will be handed over towards the end of 2015, with all 40 completed by the end of 2017.
Signing the contract, Victory's chairman Clare Barter said, "This is a very big investment indeed, representing the single biggest development of new affordable homes in the coastal strip of North Norfolk in modern times.
"This move demonstrates that we are as committed to providing affordable places for people to live in smaller communities, as we are in the area's bigger settlements. 
"Next week we will be handing over 12 new affordable homes in Blakeney; now we have secured 40 new affordable homes in Wells.  These are places which desperately need more homes for local people who live and work in the area; the provision of somewhere affordable to live is vital to the economic and social prosperity of these communities."
Victory Housing Trust has committed to build 1,000 new affordable homes during the ten year period running to March 2023.  The promise involves a total investment of over £100 million.