TRADITIONAL TOPPING OUT CEREMONY MARKS MILESTONE IN CONSTRUCTION OF 13 NEW AFFORDABLE HOMES IN FAKENHAM
27th Aug 2017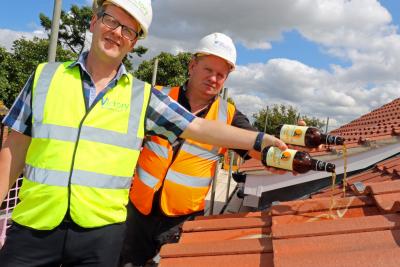 Local beer brewed just five miles away was poured over the roof of new homes at Fakenham as part of a traditional topping out ceremony marking the end of the construction phase of 13 new affordable homes in the town.
Bottles of Moongazer Amber Ale, brewed by The Norfolk Brewhouse at Hindringham, were emptied over the new homes by John Archibald, chief executive of Victory Housing Trust, and Steve Tomkins from constructor Draper & Nichols, at the site on Baron's Close near the town centre.
Ten homes for affordable rental and three homes for low-cost home ownership are being built on the brownfield site, which was formerly occupied by an NHS office, but which had been empty and derelict for some years.
The topping out marks the beginning of the final fit-out phase of the development, which will be handed over before Christmas.
The new development consists of six one-bedroom and four two-bedroom flats for rent, and two two-bedroom and one three-bedroom houses for low-cost home ownership.
Mr Archibald commented, "It is great to see the transformation which has occurred here – what was an unsightly and derelict piece of land is well on the way to becoming 13 much-needed affordable homes for Fakenham.
"We are investing a substantial sum - £1.8 million – in this project, as part of our continued drive to build as many new affordable homes as we can to meet the pressing housing need."
The £1.8 million cost of the project includes £165,000 contributed by the Homes & Communities Agency.  Since coming into existence in 2006, Victory has completed 843 new affordable homes, with a further 169 currently being constructed.