TRADITIONAL TOPPING-OUT CEREMONY MARKS CREATION OF SIX NEW AFFORDABLE HOMES IN ALDEBURGH
7th May 2019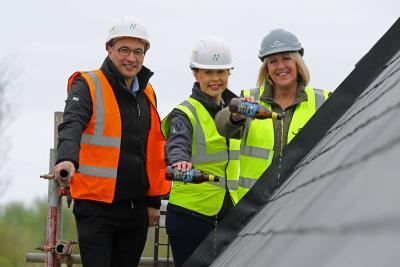 The construction of six new affordable homes in Aldeburgh has been marked by a traditional topping-out ceremony – with Suffolk ale being poured over the roof slates.
Flagship Group development project manager Lisa Davis joined Liz Ley and Roy Hands of Suffolk-based constructor Wellington to perform the ceremony, which marks the completion of the structure and roof of the new homes, on the site of the former Police station on Leiston Road.
Now the internal fitting will take place before the first families move into the new homes in the autumn.
The six affordable homes, which will be made available for rent with priority given to families with a local connection, are part of a development which also includes 13 open market homes, all of which are being built by Lowestoft-based constructor Wellington, a firm which is delivering an increasing number of affordable homes across Norfolk and Suffolk.
"It is really exciting to see such good progress on providing much-needed affordable homes for Aldeburgh, where housing costs mean that many local people struggle to find somewhere to live," said Ms Davis.
"These new homes are the result of a close partnership between Flagship, Aldeburgh Town Council, which has been supportive throughout the process, and our contractors Wellington, with whom we have worked on a number of projects to deliver top-quality new homes."
Liz Ley added, "It is just six months since we broke the ground here at Aldeburgh, and we are pleased to be marking this important milestone in the creation of new homes for local people.
"As well as building affordable new homes for local people, we have worked hard to ensure these houses fit in with the Town, using traditional designs and features such as coin work detailing and barge boards."
The new affordable homes will be a mixture of two- and three-bedroom houses, with priority for allocating them given to families with a connection to Aldeburgh and neighbouring communities.