TOPPING OUT CEREMONY MARKS CONSTRUCTION OF £1.9 MILLION SHELTERED HOUSING SCHEME IN STALHAM
17th Feb 2015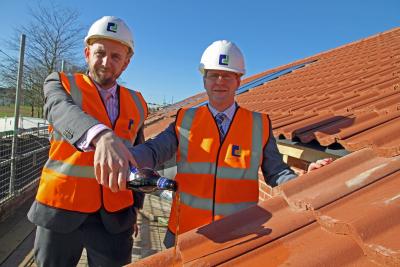 A traditional topping-out ceremony has marked the construction of a £1.9 million project to build 15 new sheltered homes at Stalham – the fulfilment of a promise made by Victory Housing Trust to replace ageing bedsit accommodation on the site.
Victory chief executive John Archibald joined Richard Dove from contractors Dove Jeffrey Homes on the roof, to pour the traditional pint of locally-brewed over the roof of the building, on Portalfield in the town.
The new building will house nine one-bedroom homes and six two-bedroom homes (two of which will be wheelchair adapted), and is situated on the site of the old bedsit block.  The new development will also include a new communal room for residents.
The topping out marks the beginning of the final fit-out phase of the development, which will be handed over inJune.
The new homes will incorporate many features asked for by residents during a consultation process run by Victory, including individual gardens, each with a shed; an entrance at the front and back of each property; a covered porch with external socket (which can be used for a mobility scooter); and adequate parking spaces close by.
John Archibald commented, "We are really pleased to see this significant new development near completion.  Victory has invested £1.9 million here in Stalham, demonstrating our commitment to providing top-quality sheltered homes for older people in the north of Norfolk – homes which will be much more suitable for the needs of today's and tomorrow's older people than the bedsits which they are replacing.
"I particularly applaud the way that Dove Jeffrey has worked very hard to minimise the inevitable disruption that work such as this causes, and have kept in close contact with neighbouring residents throughout the construction process.
"I very much look forward to returning here in June to receive the keys to these excellent new homes, and more importantly, to welcome the people who will live here."
Richard Dove added, "It has been a sincere pleasure to work on this flagship project with both Victory Housing and the local residents.  I look forward to the opening of the scheme in the summer, and would like to thank Victory for allowing our participation in this project."