THREE-WAY PARTNERSHIP SECURES £2.36 MILLION FOR INNOVATIVE TACKLING HOMELESSNESS PROJECTS IN NORFOLK
25th Mar 2021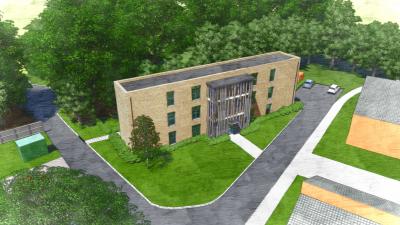 A Norfolk housing association, working in partnership with two local authorities, has secured £2.36 million of funding to create five projects to tackle homelessness in the county, through a mixture of building new homes and purchasing flats on the open market – and providing ongoing support to help homeless people settle.
Broadland Housing Association has worked with Norwich City Council and the Borough Council of King's Lynn & West Norfolk to secure the funding from the MHCLG's Next Steps Accommodation Programme and Homes England.
The five projects, which all support the Housing First principle are:
Providing six new-build modular flats on Norwich City Council land in the south of the city
Providing ten one-bedroom flats across Norwich city centre through purchase from the open market
Providing a further ten one-bedroom flats across Norwich as part of the Foundations Project (formerly known as the People Leaving Prison Project), in partnership with the Ministry of Justice and the Police and Crime Commissioner.  This project is also being funded by Norwich City Right to Buy receipts and Broadland Housing Association borrowing.
Providing six self-contained flats through the extension and refurbishment of existing bedsit accommodation in King's Lynn
Providing seven new-build modular bungalow/ground floor properties on Council-owned land in King's Lynn, for move-on accommodation
Providing six one-bedroom flats across King's Lynn town centre through purchase from the open market
Broadland Housing chief executive Michael Newey said, "The Covid-19 pandemic has concentrated minds about the problem of homelessness, but we have had ambitions to tackle the issue for a long time, which has been demonstrated by previous projects and by our membership of and support for the Homes For Cathy Group.
"Realistically, the best way of confronting this urgent and sizeable problem is through building strong partnerships, and we are delighted to have collaborated with the councils in Norwich and King's Lynn & West Norfolk to secure this substantial funding which will make a real difference in two of Norfolk's urban centres.
"Combining new-build accommodation with sourcing flats on the open market is an innovative solution to an issue which has been exacerbated by the pandemic, and it will enable us to bring move-on accommodation on stream much more quickly.
"Importantly, these projects don't just provide the accommodation; they will also provide the vital ongoing support for homeless people to enable them to tackle the root causes of their homelessness."
Cllr Gail Harris, cabinet member for social housing at Norwich City Council, added, "We're delighted to be working in partnership with Broadland Housing Association to fulfil our vision of a city which provides affordable, good quality housing to meet local need.
"Providing follow-on housing for former rough sleepers and those with complex needs has long been identified as a top priority.  It is even more critical now as we build on our work housing rough sleepers during covid, many of whom are now ready to move onto more settled accommodation.
"If you give people a home which best suits their needs and the right support, the opportunity is there to rebuild lives.  I'm glad we've been able to use our expertise, funding and resources to further our ambition to end homelessness in Norwich."