THIRTEEN NEW AFFORDABLE HOMES HANDED OVER IN FAKENHAM
29th Jan 2018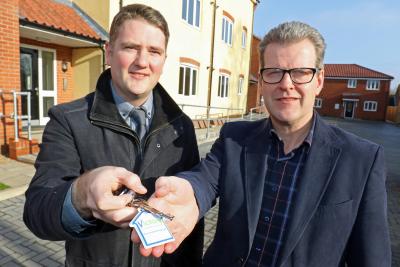 Thirteen new affordable homes in Fakenham will soon be occupied after the keys were handed over to Victory Housing Trust by constructor Draper & Nichols.
Ten one- and two-bedroom flats for affordable rent, along with three two- and three-bedroom houses for low-cost shared ownership, have been built on a brownfield site on Baron's Close near the town centre.  The land was formerly occupied by an NHS office, but had been empty and derelict for some years.
The development represents a £1.775 million investment by Victory Housing Trust, along with a £382,000 contribution from the Homes & Communities Agency (now known as Homes England).
The handover brings the total number of new affordable homes built by Victory since its inception in 2006 to 948.  The Trust has a further 95 new homes currently on site, with 120 more in the pipeline.
"We are delighted with the transformation of this site from a piece of unloved and derelict land into 13 attractive and much-needed affordable homes for Fakenham," said Victory Housing Trust chief executive John Archibald.
"This is part of our continued drive to build as many new affordable homes as we can to meet the pressing housing need."