THETFORD AUDIO BOOK CLUB FOR VISUALLY-IMPAIRED PEOPLE SEEKING NEW MEMBERS
21st Dec 2018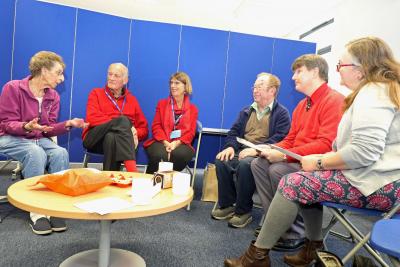 Visually-impaired people in and around Thetford are being urged not to miss out on the joy of books – by taking part in a monthly Audio Book Club which takes place at the town's library.
Run by the Norfolk & Norwich Association for the Blind (NNAB), the monthly book club is one of eight across Norfolk, with members meeting to discuss the chosen book of the month.  Members receive the audio book on either a CD or memory stick.
Now the Thetford group is looking for more members from visually-impaired people in the area.
"With the onset of sight loss, many people find it difficult to enjoy the pleasures of reading," said Mark Smith, leisure activities co-ordinator at the NNAB, who is himself blind.  "This is where audio books come into play, and they are a vital means of enjoying a favourite book.
"We read a huge variety of books – they are certainly not all highbrow or literary classics!  The titles are generally the kind of books that most enthusiastic readers might find on their shelves.  Our meetings are informal and friendly, we try to make them fun."
Volunteer Martin Claridge has helped to run the Thetford group since it started six years ago.  He said, "Reading is always one of the things that people miss when they start losing their sight, along with social interaction.  The audio book club provides both of these things: companionships as well as lively conversation about the book we have all been listening to."
Club member Lois Pattinson, from Thetford, has been coming to the group for the last six months.  She was diagnosed with glaucoma at the age of 42, and her sight has deteriorated over the years.
"I had always enjoyed reading, so when I could no longer see well enough to read actual books, I moved on to audio books," she said. 
"I love coming to the book club.  Not only do I get to discuss with others who share my love of books, but there is an important social side as well.  It is easy to get isolated when your sight goes, and the club is full of friendly people.  I really enjoy coming."
The Thetford Audio Book Club meets on the second Friday of every month from 10.30am to 12pm in the town's library.  Attendance and the loan of the audio books is free for members, thanks to Norfolk County Council funding.
Anyone interested in taking part – no matter the extent of their sight loss – can contact Mark Smith at the NNAB on 01603 629558 or via email at marksmith@nnab.org.uk.