TEN SHERINGHAM PRIMARY SCHOOL PUPILS GET A LITTLE EGGS-TRA THANKS TO LOCAL ESTATE AGENT
29th Mar 2021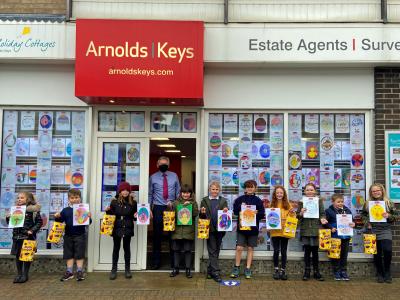 Ten primary school children from Sheringham will be tucking into a chocolatey Easter treat after they beat hundreds of their schoolmates in a 'Design an Easter Egg' competition run by estate agents Arnolds Keys, whose coastal office is based in the town.
The property firm asked children at Sheringham Primary School to design colourful Easter Eggs – and more than 200 took up the challenge.  The ten prize-winners were invited to receive their chocolate prizes by branch manager Clive Hedges.
"This last year has been a particularly tough time for children, so we felt it would be nice to spread some Easter cheer with a simple competition which they could all join in with.
"We were stunned to receive over 200 entries from pupils at Sheringham Primary School.  The quality was very high, and it was a pleasure to present the ten winners with an early Easter gift."