SWAFFHAM SCHOOL INTRODUCES NEW FOUR-LEGGED TEACHER
10th Dec 2019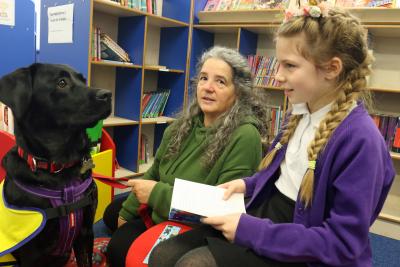 Children at a Swaffham school are being encouraged to learn to love reading – by a new four-legged member of staff.
Swaffham Junior Academy has recruited Lunar, a 17-month old labrador, as a 'Reading Dog', visiting the school one day a week to listen to children read.
"Some young people can become nervous and stressed when reading to others, but when reading to a dog, they become less self-conscious and more confident, as they perceive the dog as non-judgemental," said head teacher Nicola Kaye.
"Research has shown that children start to look forward to the reading experience, and that a reading dog encourages positive social behaviours and enhances self-esteem.
"After less than a term at the school Lunar is already very popular amongst the children, and there is a noticeable effect with those who get to read to her."
Lunar comes to school with her owner Jane Baxter, a retired carer.  Jane and Lunar attended specialist animal behaviour training before starting at the school in September.
"Reading is so important; if a child can read, it opens up so many opportunities," she said.  "Even with those children who are nervous about reading out loud, having Lunar there calms them down and brings them out of themselves.  It is really rewarding to see how their confidence grows week on week."
One child reading to Lunar in the school's library was 11 year-old Amy, who was chosen for the privilege after being 'Class Dojo' winner in her class.
"Everyone wants to come and read to Lunar," said Amy.  "She is very popular.  It's nice to be able to read to a dog.  I enjoy reading and love animals, so it's a real treat."
Another pupil reading to Lunar was 11 year-old Gracie, whose confidence levels have really grown over the weeks she has been sharing her books with the labrador.
"At first I was a bit nervous reading out loud, but now every time I read to Lunar it's really fun," she said.  "I get to read to her every Monday – some of my classmates are quite jealous."