SWAFFHAM PAIR TAKE GOLD AND SILVER AT GYMNASTICS CHAMPIONSHIPS
8th Dec 2019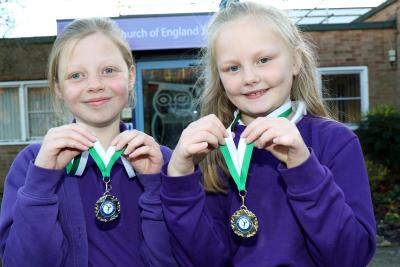 Two budding Olympians from Swaffham Junior Academy have carried off a double medal haul after taking Gold and Silver at the King's Lynn Gymnastics Club Open Competition held at Lynnsport.
Nine year-olds Erin Weedon and Izzy Gotts took first and second place in the Tumbling, and now move to the Mini-Elite Group, where they will continue their training.  The pair were competing against young gymnasts from across Norfolk and the Fens at the event.
Both girls have been doing gymnastics for two years now, and they train two evenings a week, each session lasting two hours.
Gold medal winner Erin, from Swaffham, has ambitions to be a professional Olympic gymnast, while silver medal winner Izzy, also from the town, plans to become a gymnastics coach.
"The whole school is very proud that our pupils took Gold and Silver at the championships," said Swaffham Junior Academy head teacher Nicola Kaye.  "They have worked so hard to get to the standard they have achieved, and there is no reason that they shouldn't go on and achieve their Olympic ambitions."