SUBSTANTIAL NORTH EAST NORFOLK FARM OFFERED FOR SALE
21st Jul 2020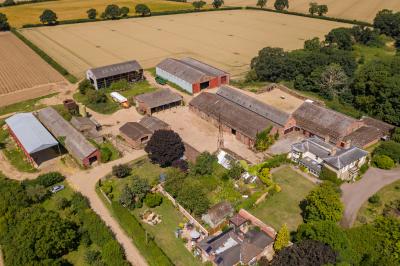 A substantial farm with 500 acres of prime agricultural land and a seven-bedroom farmhouse in north east Norfolk has come onto the market – after being in the same family for nearly a century.
Hall Farm at Sco Ruston near North Walsham is being offered for sale by Arnolds Keys Irelands Agricultural either as a whole with a price tag of £6.5 million, or in five separate lots.
The farm has been owned since the 1930s by the Alston family, and is being sold following the decision of Jane Alston, widow of farmer Gavin Alston, to retire to a smaller property nearby.  The farm is currently owned by Mrs Alston's three daughters, who are not involved in the farming industry.
As well as 202 Hectares (500 acres) of mainly Grade 1 agricultural land, the farm includes the Georgian-fronted Sco Ruston Hall, a seven-bedroom farmhouse, as well as a range of outbuildings, an orchard and a traditional walled garden.
The farm, which currently has the benefit of irrigation, has been farmed in-hand with contractors in a rotation of cereals, sugar beet, oilseed rape, potatoes and vegetables.
"This is a rare opportunity to buy a substantial amount of prime agricultural land with irrigation," said Simon Evans, partner at Arnolds Keys Irelands Agricultural. 
"It would be ideal for an agricultural family wishing to relocate and buy a substantial established farm business in its entirety, or it may be that other farming businesses nearby may want to take the opportunity to buy one or more lots to add prime quality land to their existing holdings.
"It's an old cliché that they're not making land anymore, and so we expect there to be strong interest in the sale of such an extensive amount of Grade 1 agricultural land."
The sale of Sco Ruston Farm comes exactly a year after Arnolds Keys Irelands Agricultural brought the 450 acre Green Farm at Paston onto the market which sold well in excess of the guide price of £4.5 million.
Those interested in finding out more about Hall Farm, Sco Ruston, can do so by visiting www.arnoldskeys.com/agricultural-irelands.