STUDENTS LEARN ABOUT DRIVING AMBITION FROM GOLF PROFESSIONAL
23rd May 2016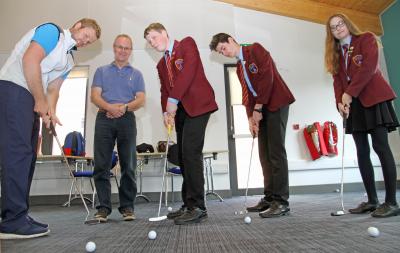 Three Year 10 students at North Walsham High School enjoyed an impromptu indoor golf lesson from a professional golfer, after he dropped in to offer tips on motivation and achieving their goals.
PGA European Professional Tour golfer Ben Rawsthorne, who is also the club professional at Bawburgh Golf Club, was asked to come and talk to the trio by his father Dr Steve Rawsthorne, a retired scientist who is taking part in the school's pioneering mentoring scheme, which sees students paired with mentors from Year 9 until they leave the school, two years later.
After Ben had shared his experiences on the subject of how to reach your goals, he brought out some putters and gave the three students an impromptu golf lesson.
Dr Rawsthorne, who spent his career at the John Innes Centre in Norwich, is in the second year of mentoring the three students.  He commented, "It is really important for young people to aspire to achieve things in life, and know that if they work hard they can do so.  Ben's experiences in becoming a golf pro, and joining the European Tour, show that even really ambitious dreams can come true.
"You can talk about the theory as much as you like, but there is no substitute for hearing it from the horse's mouth.  That is why I asked Ben to come and talk to the students – I hope they found it motivating."
One of the three student mentees is James Vann, who aspires to be a professional cricketer.  He said, "Ben helped us realize that we need to set out clear goals for ourselves, and he gave us some tips on how to reach those goals."
Fellow mentee Millie Abbs added, "The mentoring scheme is helping us to learn how to work towards what we want to do, and has given us loads of tips and advice, including working on interview technique and our personal statements."
The third mentee is Kyran Turner, who wants a career in science, like Dr Rawsthorne.  Kyran commented, "Steve has been very helpful in guiding us towards achieving our goals in life.  It has been really useful hearing real world experience from outside the classroom."
North Walsham High School's mentoring scheme was launched in February 2014.  There are now over 100 business professionals acting as mentors, and the scheme has been emulated in schools across the UK.  Mentors will meet regularly with their students as well as being available via email and telephone, to offer support and advice on qualifications, the skills needed to achieve their ambitions, and to help motivate and inspire them.