STRONG PRICES ACHIEVED AT RSMA DIPLOMA COLLECTION SALE
18th Feb 2018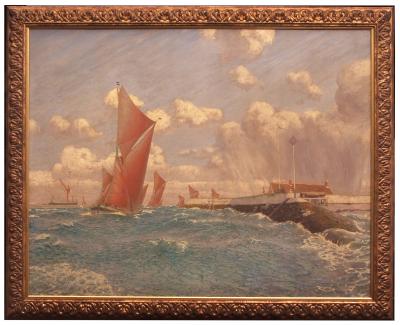 A packed saleroom, buzzing telephone lines, and brisk commission and online bidding saw many prices comfortably exceed pre-sale estimates when the Diploma Collection of the Royal Society of Marine Artists went under the hammer at Keys Fine Art Auctioneers in Norfolk.
In a sale which was described by Keys head of fine art Kevin Lines as "probably the biggest, and certainly the most important, body of British marine art ever to go under the hammer," more than 100 lots were up for sale, representing works by some of the most famous and prestigious marine artists of the last 100 years.
More than 70 per cent of the works found buyers, with the majority of hammer prices reaching or exceeding the upper pre-sale estimates.
The top five prices realised were:
'Barges Reaching out of Hole Haven, Canvey Island in the Thames Estuary' by Charles Pears (1873-1958), which sold for £8,200 (estimate £4,000-£6,000)
'Two Boats, Mannin Bay' by Donald McIntyre (1923-2009), which sold for £5,800 (estimate £3,000-£4,000)
'Nelson Boarding the Victory at Portsmouth' by Bernard Finegan Gribble (1873-1962), which sold for £5,600 (estimate £1,500-£2,000)
'Endeavour Leaving Plymouth' by Geoff Hunt (b 1948), which sold for £5,400 (estimate £2,000-£3,000)
'Start of the Tall Ships Race, 11 August 1962' by Leslie Arthur Wilcox (1904-1982), which sold for £5,200 (estimate £5,000-£8,000)
"This was the first sale to be held in our newly-refurbished Fine Art saleroom, and it was good to see the room packed out," said Kevin Lines.  "In addition, there was a good level of commission bidding, the phone lines were busy throughout the sale, and there was strong bidding online as well.
"We are very pleased at many of the prices realised, with the majority of hammer prices towards or beyond the upper end of our pre-sale estimates."
The RSMA Diploma Collection consisted of a representative work from every artist who had been admitted to the Society, which made it an unrivalled body of work by Britain's marine artists across 75 years.  The collection had been in storage for some time, largely unseen.