SPECIALIST CARE HOME TO HOST VISUALLY-IMPAIRED PEOPLE ON CHRISTMAS DAY
30th Nov 2019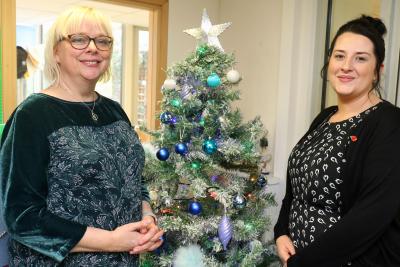 A Norwich care home for visually-impaired older people is to play host to a dozen visually-impaired local people on Christmas Day, who would otherwise be spending the festive period on their own.
The Norfolk & Norwich Association for the Blind's Thomas Tawell House on Magpie Road in the city, will serve Christmas lunch and tea to the guests, who will enjoy traditional festive entertainment.  Drivers from the charity's extensive volunteer network will transport them to and from the home on the day.
The move is part of an ongoing initiative by the charity to tackle the problem so social isolation among those living with sight loss.
"Christmas is the time when loneliness and isolation is most keenly felt, and we wanted to do something for some of those who would otherwise be spending the day on their own," said Gina Dormer, chief executive of the NNAB, which will be renamed 'Vision Norfolk' from early in the new year.
"There are all sorts of things associated with sight loss which can cause social isolation, from practical issues such as access to transport and employment, through to emotional and psychological issues associated with the loss of independence which sight loss can cause.
"Our role as a charity is to help visually-impaired people in the county lead independent and fulfilled lives, and our practical and emotional support happens every day of the year – Christmas day included."
Thomas Tawell House provides specialist residential care for up to 35 visually-impaired people, and was rated Good by the Care Quality Commission (CQC) in November 2018.