SOLICITORS SHOW A WILL TO HELP COUNTY'S VISUALLY-IMPAIRED PEOPLE
4th Jan 2018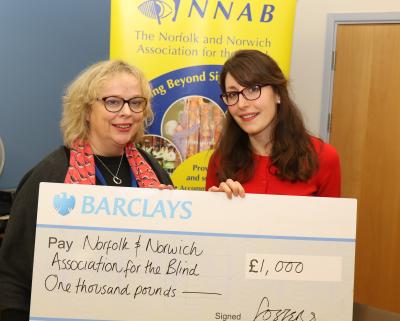 An East Anglian legal firm's Charity Wills Month has resulted in Norfolk's sight loss charity receiving a cheque for £1,000 – one of five local charities to receive that amount.
Fosters Solicitors offered a free will writing service in November in return for donations to five local charities, and after a busy month, a total of £5,000 was raised, including £1,000 for the Norfolk & Norwich Association for the Blind.
Solicitor in the firm's Wills & Probate department, Rachel Chiarotti, handed over a cheque to NNAB chief executive Gina Dormer at the charity's Norwich headquarters.
"We had a fantastic take-up of our Charity Wills Month, with our lawyers working to capacity writing wills.  The campaign achieved two important aims: highlighting the importance of having a will, and raising money for five fantastic local charities which support so many people in the county."
NNAB chief executive Gina Dormer added, "We rely on the generosity of firms like Fosters, as well as people like their clients, to deliver all of the work we do to support visually-impaired people in Norfolk."
The four other charities supported by Fosters' Charity Wills Month, each of which will also receive £1,000, are The Community Sports Foundation, Norwich Open Christmas, FAITH Animal Rescue and Topcats.