SIX NEW COUNCIL HOMES HANDED OVER IN LAXFIELD
11th Mar 2018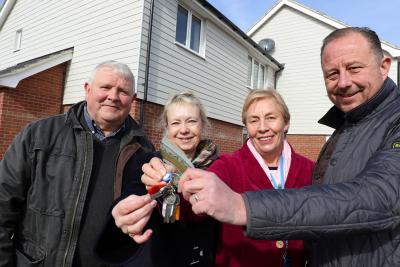 The keys to six new council houses in Laxfield have been handed over – part of a project to build 65 new homes in Mid Suffolk and Babergh, the first new council houses in either district for nearly 30 years.
Mid Suffolk District Council cabinet member for housing Cllr Jill Wilshaw received the keys to the four one-bedroom flats and two two-bedroom homes from Paul Pitcher, managing director of Suffolk-based contractor Wellington, which has built the new homes. 
The six homes are part of a project to build nine new homes in the village, with a further three two-bedroom bungalows being built on a separate site at Mill Road.
All of the homes, which have cost a total of £1 million, will be let under 'local needs' rules, with priority being given to people on the councils' housing register.
The Laxfield project is part of a wider initiative to build 38 new council homes in mid Suffolk and 27 in Babergh.  The project is being delivered with development partner Havebury Housing Partnership, with the homes constructed by Lowestoft-based Wellington.
Cllr Wilshawcommented, "I am delighted to be here, inspecting the first new council homes in Mid Suffolk in almost 30 years.  Villages like Laxfield have a huge need for more modern, energy-efficient, affordable homes to allow people to live in their own local area, and developments such as this show how committed we are at Mid Suffolk to making these  homes a reality.
"We are being proactive in seeking opportunities to build new council housing, and partnerships such as this one are the way to make the most of those opportunities.  We will now work to bring tenants into these houses and turn them into homes as soon as possible."
Paul Pitcher, manager director of Wellington, added, "We are very pleased to be handing over the keys to these new homes today, the first in what will be a stream of such handovers in the coming months.
"As a locally-based firm, we take great pride in building top quality affordable homes in the area, and we have done so at many sites across Norfolk and Suffolk.  Not only is this project providing much-needed homes for local people, but it is also creating employment for local people as well."
Receiving the keys alongside Cllr Wilshaw was local ward councillor and cabinet member for communities Cllr Julie Flatman, who added, "As ward councillor for Laxfield, this development is just what we need for our community. 
"This is the start of a project to provide many more affordable homes for local people.  I'm looking forward to the next phases being handed over in the coming months."