RESIDENTS OF HISTORIC AYLSHAM HOUSE LEARN ITS FULL HISTORY IN FASCINATING PRESENTATION
27th Sep 2021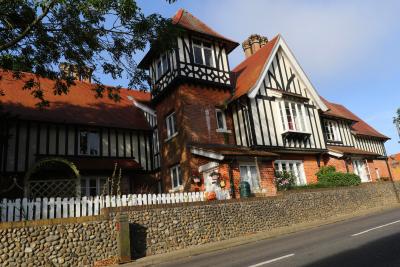 Residents living in a landmark Aylsham building were treated to a fascinating insight into the history of their homes when Broadland Housing and the Aylsham Town Archive got together to present a special event at Aylsham Town Hall.
A good number of the 16 households who now live at The Orchards on Norwich Road attended the presentation, which was followed by a special cream tea laid on by the housing association.
Archivists and historians Dr Roger Polhill and Maggie Vaughan-Lewis had conducted much research in the town hall archive and at the Aylsham Heritage Centre about the mock Tudor building, which was built in 1848 by William Repton, principal solicitor in the town, and son of the renowned landscape designer Humphrey Repton.
Drawing on archive photographs from right across the history of the building, Mrs Vaughan-Lewis told a fascinating story of the fluctuating fortunes of the house, from its round-the-clock construction by three shifts of workers, through to its rebirth as 16 flats by Broadland Housing following a disastrous fire in 2001.
Amongst the audience was Orchards resident Paul Gibson, who moved there in July this year.  "What a fantastic insight into our home," he said.  "It's so interesting to hear its history, I will look on it with a new eye now.
"The Orchards is a wonderful place to live, " said Mr Gibson.  It has got all sorts of nooks and crannies, it has soul as well as history, as well as spectacular gardens.  I keep waiting for some Victorian ghost to come wafting up!"
Fellow resident Mary, who has lived at The Orchards for a year, echoed those thoughts.  "I have lived in Aylsham for eight years, and always used to walk past The Orchards," she said.  "I didn't know any of the history, but I always thought it would be my dream home.
"It's like living in Blickling Hall, with its baronial entrance hall.  It's everything I dreamed of an more – it's my miracle flat."
Thanking Dr Polhill and Mrs Vaughan-Lewis for their presentation, Paula Strachan, communication and tenant participation manager at Broadland Housing, said, "Many residents at the Orchards know snippets about the history of the building, but it has been really interesting to hear a well-researched and authentic history from its construction right to the present day."
The Orchards (information provided by Dr Roger Polhill and Maggie Vaughan-Lewis)
The Orchards was built by William Repton in 1848 for his illegitimate daughter Eleanor (later Helen) Panton, who had married his partner in the law business William Scott in 1840.  Repton, who lived on the Market Place, had bought two acres of a former nursery in 1828 and used it as an orchard (hence the name of the house).
It was designed by William's elder brother John Adey Repton, an associate of famous architect George Gilbert Scott, in neo-Tudor style.  William Repton commissioned builder and carpenter Robert Bartram, based in Millgate, to build the house, insisting that work continued in three eight-hour shifts, 24 hours a day.
On William Repton's death in 1858, William Scott was the main beneficiary, and ten years later they moved into the Old Bank House and sold The Orchards.  The 1868 sale catalogue describes a 23'x16' dining room, two drawing rooms, a breakfast room, smoking room and gun room, as well as nine bedrooms and three upper storey drawing rooms, and extensive grounds.
Below stairs were domestic offices, a butler's pantry, store room, glass closet, kitchens and wine and ale cellars, and there were four attic bedrooms for domestics.
The property was bought by the Wright family, who let the house to a succession of tenants, including Justice of the Peace and brewer Charles Morse, who entertained the Duke of Connaught – third son of Queen Victoria – to lunch in the house.
In 1927 The Orchards was bought by World War One hero Captain James Sears, remembered for the Ian Sears Clinic he built at the bottom of the garden, which was a Child Welfare Centre.  Sears subsequently became involved in Labour politics, and eventually sold the house to the Aylsham and District Labour Party to be used as a hostel.
It was later bought by John Baden (J.B.) Postle, who converted it into a number of flats.  His daughter Ann inherited the house in 1963, but by 1990 it was falling into disrepair, and when it was listed in 1995, Broadland District Council advised her that it would take £50,000 to bring it up to Grade II listed standard.  It was put up for sale in 1997, but by 2001 it was reported as being derelict with evidence of squatters, and in June that year a fire damaged the property.
Broadland Housing Association took on the property in 2002, converting the main house into eight flats, and building a sympathetically-designed new building also containing eight flats.