RARE TUDOR COPY OF MAGNA CARTA TO GO UNDER THE HAMMER IN NORFOLK
19th Aug 2019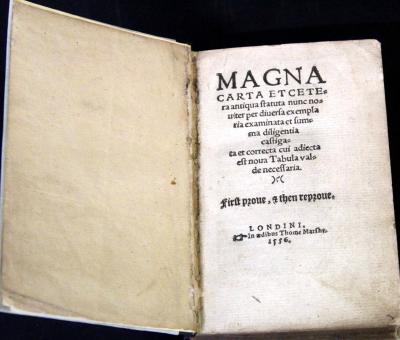 One of the earliest printed editions of the Magna Carta is to go under the hammer in Norfolk next week – with significant interest already shown by legal and historical institutions around the world.
The rare Elizabethan legal text will be auctioned as part of a two day Book Sale at Keys Fine Art Auctioneers in Aylsham, on Thursday29th and Friday 30th August.
The 1556 book, published during the reign of Queen Elizabeth 1, puts the 13th century Charter into the context of Tudor law, reflecting an upsurge in interest in the document in the 16th century following the Wars of the Roses, as both Henry VII and Henry VIII sought to emphasise the illegitimacy of any sort of rebellion against royal power.
The Magna Carta, a charter of rights, was signed in 1215 at Runnymede by King John in an attempt to make peace between the crown and rebel barons.  Four copies of the original document are still in existence: two in the British Library, one at Lincoln Cathedral and one at Salisbury Cathedral.
"The 16th century saw a huge upsurge in interest in the Magna Carta, with a belief that Magna Carta was an essential foundation for the contemporary powers of Parliament and legal principles such as habeas corpus," said Keys head of books Andrew Bullock.
Other rare books going under the hammer in the sale include a stunning Victorian illustrated edition of John Milton's Paradise Lost, and an extremely rare telescopic view of the 1851 Great Exhibition, which expands to give the viewer a three-dimensional view of the event.
The 1556 edition of the Magna Carta has a pre-sale estimate of £800-£1,200; the edition of Paradise Lost has a pre-sale estimate of £1,500-£2,000; the Great Exhibition telescopic view has a pre-sale estimate of £250-£300.
The two day Book Sale takes place at Keys' Aylsham salerooms on Thursday 29th August and Friday 30th August.  Full details of the sale, and of all lots, can be found at www.keysauctions.co.uk.