'QUEEN ELIZABETH' ROSE PLANTED AT WORLINGHAM SHELTERED HOUSING SCHEME TO MARK QUEEN'S JUBILEE
13th Jun 2022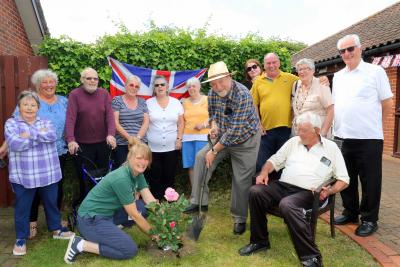 Residents at a Worlingham sheltered scheme have marked the Queen's Platinum Jubilee by planting a 'Queen Elizabeth' rose in the scheme's garden during a special Jubilee afternoon tea.
Those living at Samford Court in the village, which is run by Broadland Housing Association, got together to mark the occasion with a cream tea provided by the Rural Coffee Caravan, which visits on a regular basis.
Rural Coffee Caravan community engagement officer Annette Dunning and resident Colin Probert planted the rose, just outside the scheme's community room.
The event was the first time that all residents had come together since lockdown, an occasion which scheme manager Dawn Lambert called a 'big step forward'.
"The pandemic and lockdown has been such a difficult time for residents here, as at many sheltered schemes, so it was lovely for residents finally to be able to come together in the sunshine to celebrate the Jubilee," said Ms Lambert.
"With a wonderful afternoon tea provided by the Rural Coffee Caravan, and a beautiful rose bush planted as a lasting memento of the occasion, this has been the perfect way to mark the Queen's Platinum Jubilee."
The Queen Elizabeth rose, which is a pale pink colour, was supplied by Barnby Garden Centre in Beccles.
Samford Court is a sheltered housing complex with 40 flats and bungalows.