POP ART PICTURE OF ROLLING STONE CARRIES OFF NORFOLK SHOW ART PRIZE
28th Jun 2019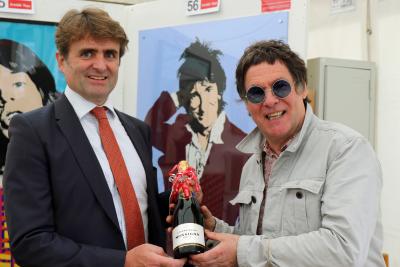 A pop art-style painting of Rolling Stone Ronnie Wood carried off the prestigious Sponsor's Choice Award at the Royal Norfolk Show Art Exhibition this year – just five years after the Norfolk-based artist was inspired to take up his paintbrush following a chance meeting with the rock superstar.
Norwich-based painter John Sparrow won the prize after his picture was picked out by judges from Art Exhibition sponsor Arnolds Keys, who praised the striking nature of the large acrylic painting.
Hairdresser Mr Sparrow, who paints in his spare time, was inspired to become an artist after a chance meeting with Ronnie Wood, who as well as being the guitarist in The Rolling Stones, is well-known as a talented visual artist himself.
"I was good at art at school, but it was only when I met Ronnie by chance at a gallery about five years ago that I was inspired to take up painting," said Mr Sparrow.
Entirely self-taught, Mr Sparrow paints in the pop-art style of Andy Warhol and Roy Lichtenstein, producing one or two works a week.
"Amongst an exhibition where the standard was again very high, John's works really stood out for the vibrant colour and the skill with which the subject was captured," said Arnolds Keys managing partner Guy Gowing. 
"Once again the range of art in the exhibition was to a very high standard, including many excellent paintings and sculptures."
More than 400 works by Norfolk artists were on display in the Show's Art Exhibition, with many being snapped up by show visitors early on the first day.