Paralympian tells North Walsham students: "Keep dreaming, Keep working, Keep winning"
2nd Feb 2015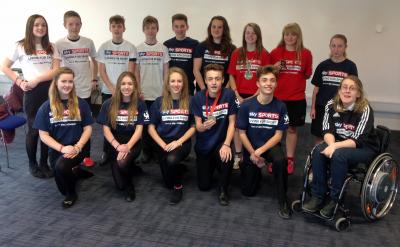 Paralympian and world champion swimmer Fran Williamson has told North Walsham High School's most promising young sportsmen and women to share her philosophy: "don't say I can't, say I can't yet'.
The international athlete, who during the course of a ten year career won 13 world championship and six Paralympic medals, was in North Walsham to help motivate and inspire the school's top-performing PE students.
Born with Athetoid Cerebral Palsy, a condition which includes shaky/wobbly movements and poor fine-motor skills, Fran didn't even learn to swim until she was 12, and took a year to gain the confidence to swim in a 25 metre pool unaided – but just two years later she won two medals at the European Championships, the prelude to a stunning decade-long competitive career.
"I am really competitive and like to win, seeing others get medals made me feel like I could get one as well," she told the group of 14 students.  "The reason I started swimming was because I saw someone break the world record, and I was determined to break it."
"It's always a struggle to get over barriers; but you always find a way to get through.  No-one really stopped me from swimming; I just got told I couldn't be successful.  What helped me through the pain was the idea that I might succeed – and the thought of getting a medal."
Fran told the students her story, and shared how they could use the same attitude and determination to succeed in their own lives.  "If I could give one piece of advice to a young person aspiring to have a career in sport, it would be to keep trying and don't give up," she said.
After retiring from competing in 2011, Fran now spends much of her time in schools sharing her experiences, enthusing, inspiring and motivating students.  
"We are very grateful that Fran Williamson took the time to come and inspire our top sporting performers," said NWHS head of PE Paul Bradshaw.  "She has overcome more barriers than most to achieve success, and she certainly motivated our students to keep working towards achieving their dreams."