NORWICH RESTAURANT'S WINE LIST RATED ONE OF THE BEST IN THE UK – FOR THE FIFTH YEAR IN A ROW
8th Dec 2019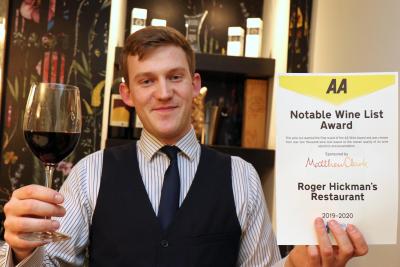 A Norwich restaurant has won an award for the variety and quality of its wine list for the fifth year in a row – putting it in the top 120 restaurant wine lists in the UK.
The AA has awarded Roger Hickman's Restaurant, in Upper St Giles Street, a 'Notable Wine List' Award, in recognition of the carefully chosen list, which includes around 120 wines sourced from a variety of regional and national wine merchants.
Roger Hickman's Restaurant already holds three AA Rosettes, and is the only restaurant in Norwich to be awarded the Notable Wine list accolade.
"Offering a range of wines to suit every pocket which complement the food we are serving is a vital part of the restaurant experience," said Front of House manager Ed Akister, who selects the wines alongside chef-proprietor Roger Hickman.  "We have always tried to offer a list which combines old favourites with more unusual wines, encouraging our customers to try something outside their comfort zone occasionally.
"We are delighted that our list has been recognised for a fifth consecutive year by the AA, whose 'Notable Wine list' award is one of the most prestigious in the restaurant trade."
Roger Hickman's Restaurant's wine list includes a huge choice of over 40 white wines and over 50 white wines, as well as sparkling wines, rosés and dessert wines – with bottles drawn from around the world.  It is presented by wine style rather than by country, to help diners choose a wine which will complement their meals.