NORWICH RESTAURANT'S ICONIC CHEESECAKE GOES PURPLE TO SUPPORT BEREAVEMENT CHARITY EVENT
16th May 2019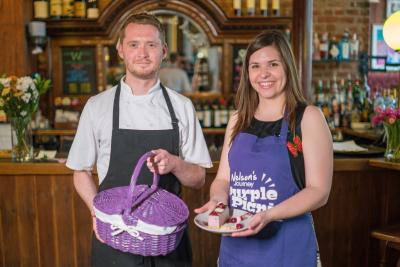 An iconic Norwich restaurant and wine bar has come up with a special edition of one of its signature dishes to support the Purple Picnic fundraising campaign by Norfolk charity Nelson's Journey.
Iain McCarten, head chef at The Last Wine Bar has created a special purple edition of the restaurant's famous cheesecake – and The Last will donate £1 to Nelson's Journey for each one sold in the six weeks leading up to the Purple Picnic itself.
The special edition cheesecake's purple colour comes from an abundance of black cherries, giving the pudding a suitably summer taste as well as a deep purple hue.
Iain McCarten said, "We wanted to create a dish to support this great initiative, and what better than our signature cheesecake, which is a dish which has been on the menu at The Last for most of our 29 year history. 
"We are delighted to be supporting the campaign, and hope our customers will enjoy tucking into their purple pudding, in the knowledge that we will be making a donation to the charity on their behalf each time they do."
Sarah Dodge, community funding & marketing officer at Nelson's Journey, added, "I am lucky enough to have had a preview tasting of Iain's cheesecake, and can confirm it is as delicious as it is purple!
"We are really pleased to have such a Norwich institution as The Last supporting our Purple Picnic, and we hope that people will enjoy finishing their meals and supporting the campaign at the same time."
Nelson's Journey's Purple Picnic takes place from 8th to 14th July, when schools, work colleagues, friends and families are encouraged to hold their own Purple Picnic, fundraising to support Norfolk's bereaved children and young people.  In the three years the Purple Picnic has been running, it has raised over £34,000 for the charity.
The Last Wine Bar will donate £1 to the charity for each purple cheesecake sold from 1st June to 14th July.