`NORWICH DISTILLER FLIES THE NORFOLK FLAG IN PRESTIGIOUS LONDON RETAIL LOCATIONS
2nd Dec 2021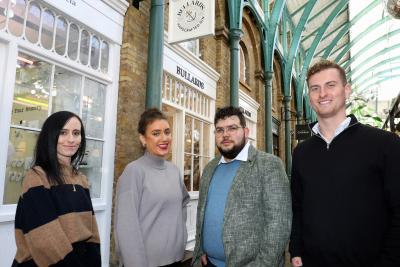 A Norwich-based distiller is flying the flag for the city in London after it opened experiential retail outlets in three of the capital's most prestigious shopping areas.
Bullards has opened the high-profile gin tasting bars and shops in Covent Garden, Westfield White City and Canary Wharf.  All three outlets are offering tastings, gin experiences and mixology masterclasses, as well as showcasing the range of Norwich-made gins – including the eco pouch refills and 'bottle for life' concept, an important part of the brand's sustainability message.
The Covent Garden store, which is situated right in the heart of the main piazza, has also seen a partnership with up-and-coming mixers brand Double Dutch, which last year attracted investment from drinks giant Heineken.
Bullards says that it is tapping into a growing trend of experiential retail, especially in food and drink brands, which is helping to regenerate bricks and mortar retail.
"For premium food and drink brands, connecting with customers on a face-to-face level is increasingly important," said Bullards business development director Joe Evans.
"Our experiential retail concept is allowing us to build personal relationships with potential customers, allowing them to sample the product, and start to build a strong connection with the brand.
"That is translating into strong sales even in London, where the Bullards brand does not have the local heritage we enjoy in Norwich.  We are seeing conversion rates of over 70 per cent in our Covent Garden store, so our investment in outlets in London is allowing us to find many new customers.
"As a premium drinks brand, it is important to be seen to be in prestigious locations, and our new London stores are in three of the capital's top retail areas.
"We are very definitely Norwich-based, it's our home, and we are proud to have outlets in both Jarrold and Chantry Place - but we see a real opportunity to market the 'Spirit of Norwich' to a wider audience, and fly the flag for a historic Norfolk brand in the capital."