NORTH WALSHAM SCHOOL RECEIVES AWARD FOR COMMITMENT TO SPORT
19th Oct 2015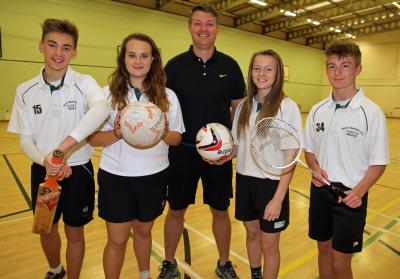 North Walsham High School has been recognised for its commitment to school sport and physical education, with the award of a Silver School Games Mark.
The award, part of the Sainsbury's School Games initiative, recognises the particular effort that the school puts into encouraging all students to take part in sport and physical exercise, as well as nurturing high achievers and helping them realise their potential.
Achieving the Silver School Games Mark requires a number of stretching criteria to be met in four categories:
Participation: including providing all students with two hours of physical education and sport per week, and engaging at least 35 per cent of students in extra-curricular sporting activity every week
Competition: including providing opportunities for intra- and inter-school sports competitions
Workforce: engaging students themselves to lead, manage and officiate School Games activity
Clubs: building links with local sports clubs
"We have a good track record of nurturing our talented sporting students at a high level," said NWHS head of PE Paul Bradshaw.  "This award also shows that we work hard to engage all students in physical education and sporting activity.
"In an era of growing childhood obesity, encouraging children to be active is increasingly important.  What's more, sport instils a real sense of teamwork and achievement, and these are qualities which help students succeed right across the curriculum."
The Sainsbury's School Games Mark is now in its fourth year and continues to reward schools for their commitment to and development of competition, school sport and physical education.  More details at www.yourschoolgames.com.