NORTH NORFOLK MARATHON RUNNER RAISES OVER £2,400 FOR COUNTY'S SIGHT LOSS CHARITY
21st Jul 2019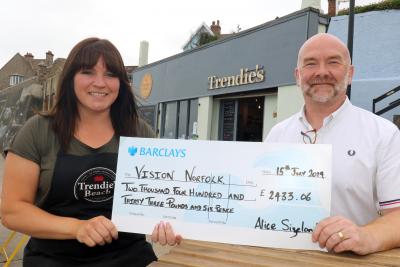 A first-time marathon runner from north Norfolk whose father lost his sight two years ago has raised over £2,400 for Norfolk's sight loss charity by completing the London Marathon.
Alice Sizeland, who runs the beachfront Trendies café in Sheringham with her partner Andy Trend, only entered the race on a whim after her Andy and several relatives applied for a place – and was shocked when she was the only one who was successful.
Having decided to take up her place and raise money for the Norfolk & Norwich Association for the Blind (which recently announced it is to change its name to Vision Norfolk), Ms Sizeland had to embark on an intensive training regime, building up to three mile runs before Christmas, gradually increasing the length of her training until the big day in April.
She complete the marathon – her first – in five hours four minutes, narrowly missing her target of five hours, raising a total of £2433.06 for the charity.
Ms Sizeland's father Robin, also of Sheringham, lost his sight through illness two years ago, and now takes part in a variety of activities organised by the NNAB in north Norfolk, including sailing.
Receiving the cheque, the NNAB's director of business development Clive Evans said, "We are really grateful to Alice for undertaking the punishing training regime and completing her first marathon, and to all those who generously sponsored her to raise such a fabulous amount of money."
Ms Sizeland has decided not to hang up her running boots just yet, and has entered both the Manchester and London Marathons in 2020.