NORTH NORFOLK COMMUNITY FUND CELEBRATES TEN YEARS AND NEARLY £1/2 MILLION OF GRANTS
30th Nov 2018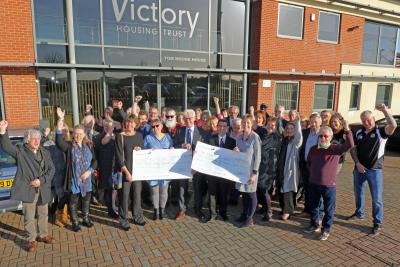 A Community Fund set up by north Norfolk's largest social landlord has marked ten years of giving grants to voluntary organisations and community groups by announcing its biggest ever grants round – with 15 organisations sharing a huge £69,360 windfall.
To mark the tenth anniversary of the Fund, the Victory Housing Community Fund has included its biggest ever grants – two £10,000 gifts to bereavement charity Nelson's Journey to support the costs of a child bereavement support worker covering North Norfolk, and to SleepEast to provide an integrated sleep support service for families in North Walsham, Fakenham and Holt.
The latest round of grant-giving means that the Fund has given out 172 grants worth just under half a million pounds since it was established in 2008.
The decisions about which organisations to support were made by a panel of Victory residents, advised by the grants team at Norfolk Community Foundation, which administers the Victory Housing Community Fund.
Alongside the two special £10,000 super-grants (the usual upper limit is £5,000), the other organisations receiving financial support were:
Empada Care & Support, which received £5,000 to continue to be able to offer one-to-one counselling sessions, and introduce an art therapy group
EP Youth, which was given a £5,000 grant to deliver a free mobile project in Fakenham and a nearby village to young people aged 11-25
Ludham Village Hall & Playing Field, which received £5,000 to improve the lighting in the hall and stage
Merchants Place Ltd, which was given £5,000 to support 'Drawn Together', a new project that will offer creative activities for local people.
Norfolk Eating Disorders Association (known as Eating Matters), which received a £5,000 grant to provide early intervention therapeutic and support services in North Norfolk
Trunch Village Hall, which was given £5,000 to update the village hall kitchen
About with Friends, which received £4,855 to contribute to the cost of a new Wednesday older people's club in North Walsham, benefitting 40 to 50 older people as well as About with Friends members
Hickling Playing Field and Recreation Ground Charity, which was given a £4,843 grant to purchase six items of gym equipment
North Walsham Town Football Club, which received £4,824 to purchase two new sets of goals for junior teams
Happisburgh Coast Watch was given a £2,194 grant to cover running costs, purchase uniforms and renew the gas range
Sea Cadets Wells-next-the-Sea received £1,350 to purchase 30 foul weather jackets for cadets
Aldborough Allotment Association was given £800 to repair the communal shed
Barney, Fulmodeston & Thursford Food Production Club received £494 to purchase news boards and banners to advertise key events
"When we set up the Victory Housing Community Fund in 2008, our aim was to provide support for those grassroots groups which are at the heart of our communities," said Christine Candlish, director of housing at Victory Housing Trust. 
"I don't think we dared dream just what an impact the Fund would have over the subsequent decade, nor that we would be celebrating having given out just shy of half a million pounds of grants in that time.
"We are particularly pleased to have been able to donate the two £10,000 'super-grants' to mark the anniversary, to two organisations which have made such a difference to the lives of people in north Norfolk."
The grants were announced at a ceremony at Victory Housing Trust's North Walsham headquarters, by Norman Lamb MP, who said, "It is brilliant that Victory Housing Trust does these awards, they make a massive difference to our community organisations.  It is so worthwhile to provide support to people in their villages and towns, and it makes a real difference.  These groups are what make our communities tick."
Simon Wright, chief executive of Nelson's Journey, said, "We are seeing a massive increase in referrals from north Norfolk, and without these additional resources, we would be unable to fulfil that demand.  The money we have received from the Victory Housing Community Fund will contribute towards the cost of a professional bereavement support worker, who will be dedicated to supporting families in north Norfolk."
Joy Bishop, chief executive of SleepEast, added, "This grant is tremendous news for us.  It will enable us to double the amount of work we do in north Norfolk, and will help us support around 380 people, ranging from parent support workshops and drop-in session in libraries right through to intensive one-to-one help for families."
Full details of the Victory Housing Community Fund can be found at www.norfolkfoundation.com.