NORFOLK'S SIGHT LOSS CHARITY LAUNCHES VOLUNTEER APPEAL
31st May 2021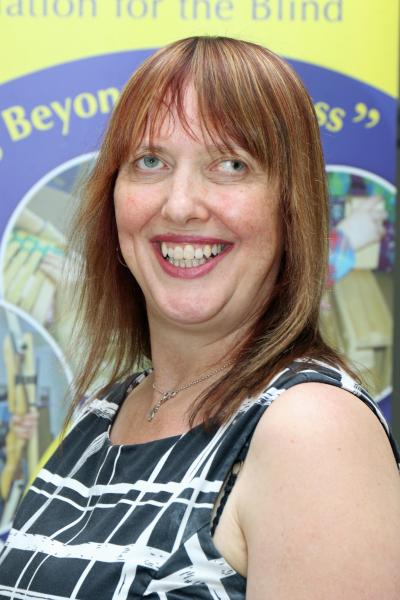 A Norfolk charity which is fully opening up its services after over a year of lockdown restrictions is appealing to people in the county to become a volunteer to help it support people living with sight loss.
Vision Norfolk is planning to fully open its community hubs in Norwich, King's Lynn and Great Yarmouth in the coming weeks, and is marking National Volunteers Week (1st-7th June) by launching an appeal for new volunteers to join the charity.
Prior to lockdown Vision Norfolk relied on its army of over 200 volunteers to help with everything from running sports and leisure activities, advising at eye clinics, being Telefriends, driving, fundraising, escorting and guiding, working in the charity's community hubs, administration and helping at special events.
"Without our wonderful volunteers we would simply not be able to offer the range of services that we do to visually-impaired people across Norfolk," said Vision Norfolk chief executive Gina Dormer.
"As we emerge from lockdown and gear up to offer our full range of services once again from our community hubs, we are appealing to people in the county to step forward and volunteer their time to support people living with sight loss in the county."
The charity's volunteer engagement co-ordinator Penny Parker said, "The pandemic has reinvigorated the concept of volunteering, and many people have found it a very rewarding and fulfilling thing to do
"Volunteering is a great way of gaining confidence and new skills, of meeting people and of taking part in the local community.  Whether it's a regular commitment or a more ad hoc role, getting involved brings all sorts of benefits, including social interaction, a boost for the CV for young professionals, and research even shows that it's good for the volunteer's own mental wellbeing."
Volunteers can make a regular commitment or simply offer their time on an ad hoc basis.  Full visual awareness training is given.  Anyone interested in becoming a volunteer with Vision Norfolk can apply via the charity's website at www.visionnorfolk.org.uk/get-involved/volunteer, or contact volunteer engagement co-ordinator Penny Parker on 01553 407004 or at penny.parker@visionnorfolk.org.uk.
Case Study – Chris Stanley
Chris Stanley's first involvement with Vision Norfolk was in 2009, when as president of the Great Yarmouth Lions Club, he presented a cheque to the charity.  Also as part of his Lions presidential year, he organised an event for World Sight Day in the town, which saw various MPs following a course while wearing blindfolds.
Six years later, on his retirement, Chris started volunteering with the charity.  Initially he got involved with the monthly pleasure walks, as well as craft sessions and coffee mornings at the Great Yarmouth hub.
It was after meeting eye clinic liaison officer Rosie Knell that Chris started helping out at the eye clinic at the James Paget Hospital, where he spends every Tuesday morning in a varied role which ranges from keeping the leaflet stations stocked with the latest information to liaising with the community support worker and simply chatting to patients.
He also is a reader for Grapevine, Great Yarmouth's talking newspaper.
"If anyone is looking for a role with a local organisation, I would highly recommend Vision Norfolk," he says.  "I have found all blind and visually-impaired people I deal with to be extremely grateful for whatever you do for them.  They are such lovely people; I never hear them complain about their sight loss, they just get on with it."
Case Study – Zoe Tinkler
Zoe Tinker started volunteering for Vision Norfolk after she was made redundant – and the experience has not only been rewarding in itself – it has led to a new career.
"I was nervous to join the Visual Awareness course, but was made welcome straight away.  As I had been made redundant, I found myself volunteering lots, and the more I volunteered, the more the organisation impressed me.
"It is not always easy, but I get to see first-hand how relaxed and happy clients are to spend time enjoying social activities and learning new skills."
Zoe's experience volunteering has led directly to a new career – with Vision Norfolk.  She has recently been employed as one of the hub co-ordinators at the charity's King's Lynn hub, proving that as well as making a difference, volunteering can have real benefits as well.
Case Study – Adrian Coales
Retired mental health nurse Adrian Coales started volunteering for Vision Norfolk as a telephone befriender during 2019.  He has personal experience of sight loss, having been diagnosed with Stargardts disease in 2011.
"At present I phone seven people, all of whom have been referred to the service by a community support worker.  They vary in age from 22 years to the eldest being 92.  With one exception the people are living on their own and have various degrees of support. We talk about everything except politics and religion.
"I feel that I am providing a service to people who may not speak to another person from one week to the next, which I find very satisfying.
"The telefriending service is a two-way conversation.  I have learnt a lot about being sight impaired and find that the people I talk to are as much a resource for me as I hope I am to them.  I find that the interaction with others who are sight impaired stimulating and rewarding."
Case Study – Telmo De Sousa
Portugal-born Telmo De Sousa has lived in Norwich for 17 years, and works as a customer adviser for a large telecoms business.  He has been severely visually-impaired from birth, with the rare genetic condition rod monochromatism.  Despite this, he is fiercely independent, and despite meeting many barriers along the way, has built a life and career for himself.
It was his experiences, coupled with his knowledge of technology, which inspired him to offer his skills on a voluntary basis to Vision Norfolk at the start of this year.  Meeting visually-impaired customers in store, he realised that many were struggling to find help in setting up technology such as mobile phones and tablets, as well as sourcing apps which might help them live more independent lives.
"I realised that there is an information gap which is making it difficult for visually-impaired people to access technology," says Telmo, who is 38 and lives in the city with his partner and three year-old daughter.  "I use technology every day, and know how helpful it can be, and I recognised that I might be able to use my skills and experience to help other people living with sight loss."
Telmo approached Vision Norfolk with the idea of producing a series of YouTube videos for visually-impaired people explaining how to access technology.  The first of these are now live on the charity's YouTube channel, and Telmo is busy making more.  They cover all kinds of topics from setting up a mobile phone to finding apps which can help with daily life.
"I enjoy sharing my experiences and using my tech skills to help other visually-impaired people, " he says.  "Volunteering is really fulfilling, and it is also helping my career, as my employer encourages us to get involved with the community.
To anyone living with sight loss, Telmo has one message: get involved.  "It's easy to think 'I can't help', or to regard yourself as the recipient of support rather than someone who can provide it.  But the knowledge and experience of living with a visual impairment makes you an ideal person to help others finding their way on their sight loss journey, whether it's using a specialist skill like I have got, or simply being a friendly ear to offer some moral support."
Case Study – Matt Lawley
Norwich man Matt Lawley is starting his volunteering career by putting his best foot forward –stepping out to guide a blind walker on a 50km challenge to raise money for the county's sight loss charity.
Matt Lawley decided to become a volunteer for Vision Norfolk, and his first assignment will be to help Ed Bates from the charity undertake the marathon walk in June, as part of an eight-strong team taking part in the 2021 Broads Walk Challenge event.
The pair will be walking from Aylsham to Acle via North Walsham, Stalham, Hickling and Potter Heigham, negotiating riverside paths, marshes and reedbeds on the way.
Mr Lawley decided to take the plunge and become a volunteer for the charity having been inspired by an incident in his university days.
"When I was a student, I was watching a football match in a pub when I became aware of a chap in a Man Utd shirt who had his back to the screen, but who was engaged with the match and enjoying it as much as everybody else.  I realised that he was blind, and that his sight loss wasn't stopping him from living his life to the full. 
"Since then I have always followed blind football and visually-impaired athletes at the Paralympics, so I thought I should take the step and become a volunteer to support Vision Norfolk, which does so much to help visually-impaired people lead independent and fulfilled lives in the county."
As an active sportsman who enjoys playing football, cricket and golf, Mr Lawley is hoping to put his interests to good use by helping visually-impaired people in Norfolk stay active and take part in sports.
Case Study – Martin Sales
Martin Sales has been a driver volunteer with Vision Norfolk for the last ten years,  transporting visually-impaired people in his own car to and from various clubs and events run by the charity, as well as delivering and helping install visual aids equipment, and accompanying people to hospital and doctor appointments.
He says, "I was fortunate during my career to have enjoyed a challenging, interesting, varied and rewarding working life.  This provided me with a real sense of purpose and worth. I can't deny it was a wrench when I gave this up.  However, I was determined to take up new and different challenges through voluntary work, and Vision Norfolk provided me with an opportunity which I accepted alongside other voluntary work with other charities and organisations.
"Some weeks I may have three duties and other weeks none at all.  I'm very happy with this arrangement and nothing I do interferes with the (many) holidays I take over the course of the year!
"On becoming a volunteer I was provided with first class training and throughout my time have been given excellent support and appreciation from the paid staff both in King's Lynn and Norwich - they are a joy to work with.
"Volunteering with Vision Norfolk has been a thoroughly joyful and positive experience. It has helped to fill 'the void' left by retirement.  I really feel as if I'm doing something worthwhile and that it's appreciated.
"The greatest inspiration I draw from all this is provided by our 'clients'.  So many have led interesting and varied lives which I hear about through their many, often hilarious, stories.  So many face significant challenges as a result of their sight difficulties but none moan about this.  Instead they remain positive and 'get on with life'.  I feel truly privileged, in my very small way, to support them."